Shannon Airport will become a hub of a different kind this week when over 2,500 students are expected to touch down at the airport over the course of Thursday 1st and Friday 2nd March for events aimed at stimulating interest in engineering and technology.
Speaking ahead of the events, Rose Hynes, Chairman, Shannon Group said: "We are proud to be hosting two events aimed at inspiring young people towards innovation and entrepreneurship.  Seeing the talent, creativity and innovation culture at work at these events is always inspirational."
Quick turnarounds at Shannon will extend from the runway to the terminal building as it hosts major events over consecutive days that will inspire and educated second level students interested in technology and engineering.
Said Shannon Group CEO Matthew Thomas:  "Airports can be exciting places, but the events on Thursday and Friday are going to take it to a new level. We are delighted to host events which put the focus firmly on young people and encouraging them to reach for the stars and fulfill their potential."
On Thursday evening much of the departures area will give way to an expected 1,500 students attending one of the high point of Engineers Week when the Limerick for Engineering Showcase takes place.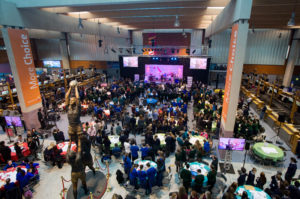 Thursday's Limerick for Engineering Showcase is all about promoting careers in engineering as secondary school students get a chance to meet more than 30 companies based in the region that will give them an insight into the exciting opportunities that a career in engineering offers.
The event runs from 6pm to 9pm.
A quick turnaround afterwards will see the departures area transformed for the ITLG event, which will see students from across the country converge on the airport for an event focused on innovating and developing new solutions that will shape the way we live in the future.
The ITLG Young Innovators Challenge, which is in partnership with Shannon Airport, LIT, Aer Lingus and the Department of Foreign Affairs, will see second level students pitch their ideas to leading Irish investors and RTE 'Dragons' Barry O'Sullivan, Gavin Duffy, Chanelle McCoy, Eleanor McEvoy, and Alison Cowzer. The winning team walks away with a dream trip of a lifetime to San Francisco from where they will travel to Silicon Valley to meet with some of its fastest growing tech startups as well as innovation stalwarts like Google and Intel.
More local news here.