LIMERICK prog/ post-rock instrumentalists are about ready to launch their second LP. The lead single from the album called 'Anger in Storage (Denial Will Follow)' absolutely thundered out of the traps on release and gave us an exciting taste of what is to come from the full album to be released on vinyl this Friday.
Jim Griffin (guitar), Dave Tobin (guitar), Brian Fitzgerald (bass) and Brendan Miller (drums) recorded the album at GAF Studios, Tipperary.
It was mastered by Richard Dowling of WAV Mastering. The quartet has a distribution deal with UK prog specialists Burning Shed which will bring Zombi Picnic to a wider international audience.
Their previous album 'Suburb of Earth' sold out on CD and the new recording uses samples and voice overs throughout giving this instrumental band its own unique voice and manifesto.
Limerick Post chatted with drummer Brendan Miller this week.
Is interest in Zombie Picnic growing in the UK – now with Burning Shed distribution in place?
"Our link in and relationship with Burning Shed has been great. They took us on for the debut album after Jim (guitar) released his first solo album through Roger Linney's 'Reverb Worship' label.
"They've been a massive part of our growing fan base in the UK which has definitely made it possible for us to plan something bigger than we've done before, the Prog scene in the UK is massive and we'd love to get over there and get involved at some point this year."
Can you describe how the band takes a raw idea onto getting the band in the pocket playing a potential album track?
"Tracks are born out of jam sessions with a bit that someone has come in with. We'll take that bit and it will start to grow and grow until it becomes a section rather than a bit.
"We'll record it in the practice space and try to find something else to match and add on to the start/end of it. Most tracks get finished very quickly and are what make it on to an album, we've worked for longer on other stuff and not used it as it might not fit the vibe that we're looking for. We've been playing music together for a long time so there's a sixth sense there. We can play off each other quite naturally and it's pretty clear the second something isn't working."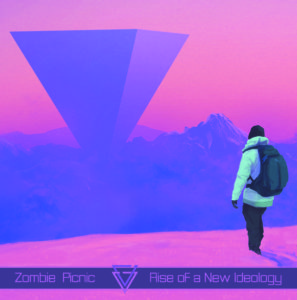 Though Zombie Picnic in instrumental band – you have samples and voice overs throughout the album?
"The music will always be what we use to give the base layer of mood for anything we write and the voice overs are used to add another dynamic to that.
"Jim is the main drive behind our samples and voice overs and he always gets it right, he'll come in with a pretty well formed idea and the rest of us will just drink lots of coffee!
"The pieces on side A of the new album are reworks of existing material that give that side a theme of looking towards the future,
Rob O'Dwyer did a great job for us on that front.
"Side B uses new material from Jim and his wife Evelyn that they recorded at home, it's a Zombie Picnic take of a self-help tape to help you deal with the future we set out on side A!"
Suburb of Earth sold out on CD – How/ Why did the decision to release on vinyl come about?
"We're huge vinyl heads and the temptation has always been there for us to do a vinyl release. It's a big step up but we wanted everything to be a step up on this album, including the formats it would be available on.
"We decided to really embrace the vinyl format when it came to the track list and have split the album thematically for side A and B.
"We're still big believers in physical music formats. Brian (bass) and myself worked in a record store for over 10 years so on top of Burning Shed we wanted to get this album in to record stores around the country. That was very important to us and it's been an absolute joy to deal with the people running independent record stores all around the country."
Looking forward to the show?
"We can't wait to get the album released and for people to get it in their hands and hear it! Dolan's gigs are always a lot of fun and we've got Casavettes along that night too so we're really looking forward to it."
Zombie Picnic play Kasbah Social Club Dolan's this Friday March 9.