Two sets of friends hailing from Co. Limerick are celebrating after being named finalists in Fisherman's Friend Search for Ireland's Greatest Friendship.
Carmel Tuohy Curtin from Tournafulla is celebrating over 40-years of friendship with Rosaleen Maher and Pen Pals Margaret Loughlin from Clarina, and Concetta Palladino are celebrating their friendship after being named finalists in Fisherman's Friend Search for Ireland's Greatest Friendship.
Following a nationwide search by Fisherman's Friend for Ireland's Greatest Friendship, individuals from across Ireland were encouraged to pay tribute to a true friend who goes far beyond the call of duty by submitting an image and short description that best illustrates their friendship.
The friendships captured the hearts of the judges, which included Editor of Irish Country Living, Mairead Lavery; President of the Irish Photographic Federation, Dominic Reddin and Martin Stimson, Area Business Manager, Fisherman's Friend.
Martin Stimson, Area Business Manager of Fisherman's Friend comments: "There's such strength in friendship and it has been a privilege to be part of this competition, in partnership with the Irish Farmer's Journal, and to celebrate and recognise Ireland's Greatest Friendships.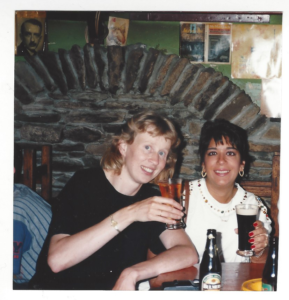 "The quantity and quality of the entries was very impressive, and it was great to see such a diverse range of photographs that captured the heart-felt friendships that exist all across Ireland."
Carmel Tuohy Curtin and Rosaleen Maher were celebrating 40 years of memories during a trip to New York, where their photo was taken at New York's Freedom Tower in November 2017.
Margaret and Concetta have been best friend's since becoming pen pals at age 12 – now over forty years ago.  Margaret comments:
"We had an instant connection and it was so easy to confide all our hopes and the details of school, hobbies and home.  How exciting it was waiting for the postman to bring the latest letter, postcard or the little parcels that marked Christmas and our Birthdays.
"Nowadays, we email and Skype all the time, which makes us even more involved in each other's' everyday lives.  We try to meet yearly – or every couple of years – and bring all of our letters, which gives our families a great giggle. We love it though; our lives are recorded in print forever."
Fisherman's Friend's search for Ireland's Greatest Friendship launched in 2017 in association with the Irish Farmers Journal.  For more details on this year's event and to see the full range of finalists, visit Fisherman's Friend Ireland Facebook Page at Facebook.com/ FishermansFriendIreland.
More local news here.