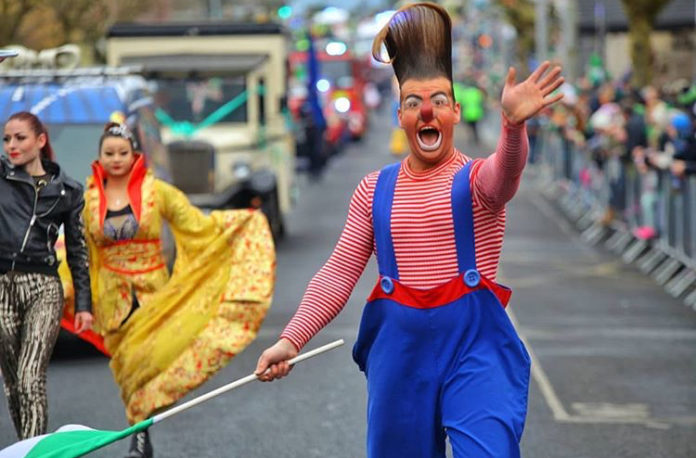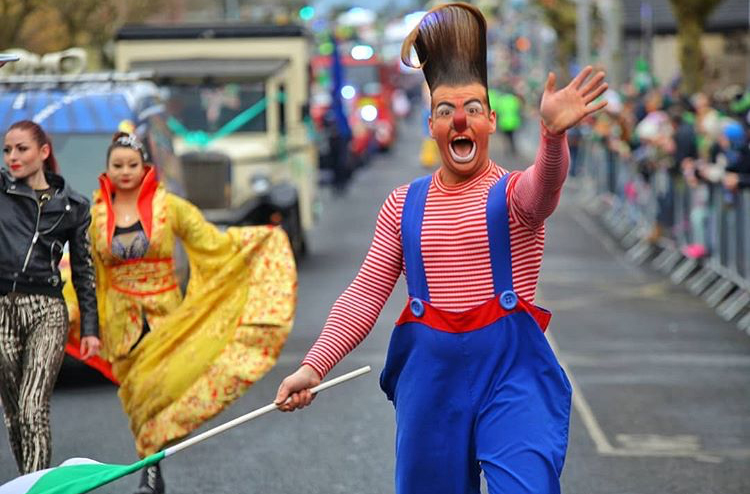 COLOUR, culture and a celebration of the circus hit the highlights for the 75,000 people who lined the route of the Limerick St Patrick's Day parade.
With the queen of Ireland's National Circus Marian Fossett leading out some 4,000 participants, spectacular colour, fun and excitement was the order of the  day for the Limerick crowds who lined O'Connell Street.
Some of the Limerick's youngest participants braved the chill as flag bearers, dancers and float representatives of the proud 100 community groups, clubs and organizations.
Along with athletes from the Special Olympics and Limerick's finest sporting clubs, The Treaty city shone with its finest for St Patrick's day.
The School of Spectacle worked with world renowned street theatre company Walk the Plank who brought their 'Whirling Wings Circus' to the parade. The entry was created by 25 local and international creative practitioners over the past week and featured still walkers, who walked the entire two kilometre route.
Artastic partnered with Limerick's award winning Spotlight Stage School to co-create an upbeat dynamic entry while, Fidget Feet aerial performances brought colour, energy and awe to the parade.
LUXe presented their award winning "Cirque de Lune" with a highly skilled aerialist performing in a hoop suspended from their sky hook and another performing high in the air on a Chinese pole while a third performed high above the crowd in the Empress Tower.  It was led by an exotic circus master riding wildly on his mechanical horse!
Award winning Macnas' entry was a nod to the early travelling sideshows.  High up her tower the Ring-mistress hailed the arrival of her band of mischievous and musical minstrels and her wonderfully whacky troupe of circus sideshow performers.
A judging panel made up exclusively of children decided the parade winners.
They were:
Best Overall Performance – The Chinese Association of Ireland
Best Creative Performance – Cloughjordan Youth Circus
Best Youth Group – Fleming Ball Irish Dancing Academy
Best Musical Performance – Limerick City Rhythm Marching Band
Deputy Mayor of the City and County of Limerick Cllr Marian Hurley said: "Today has been an amazing spectacle and a credit to the organisers.  I loved the theme of Circus this year, it was inspirational.  It's 250th anniversary of the Circus and 130 years of Fossett's Circus.  It was just lovely, every group seemed to carry that theme right throughout the parade.  It was very colourful and the theme brought that right throughout the parade."
"We had such wonderful artistes such as Fidget Feet and Macnas and all the other big names, we're thrilled with our parade in Limerick."
"I also want to pay particular thanks to the people of Limerick city and county who came out in such numbers and supported the parade despite the cold weather," the deputy mayor added.
Limerick St Patrick's Festival 2018 continues over the weekend, with a series of events celebrating our National Holiday.
See more Limerick news here