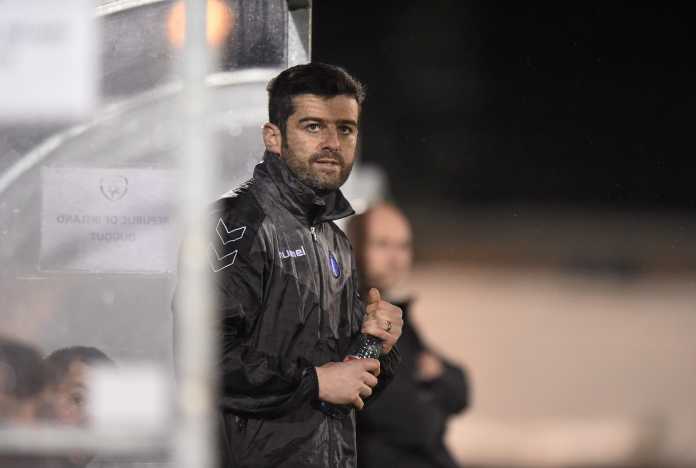 LIMERICK FC manager Tommy Barrett says he is satisfied with his team's start to the season ahead of their next game against St Patrick's Athletic at Inchicore tomorrow night.
The Super Blues sit in sixth place in the SSE Airtricity League Premier Division with eight points from their seven games to date.
Limerick make the trip to the capital following a two home games against Cork City and Shamrock Rovers which yielded a point (1-1 draw v Cork)
"We're fairly on target," said Barrett "We have our own internal targets, and after six games we were fairly on target points wise to what we were looking for.
"Maybe, we would have liked a couple of more points, but we're going alright," Tommy told LimerickFC.ie.
"Points wise, we're going okay. Obviously, those two games (Dundalk 8-0 and Derry 5-0), if we had lost those by one or two goals, everyone would be looking at it even rosier. It was just the nature of those.
"But last weekend, we could have had four points, we could have had six points. We ended up with one.
"Considering the bodies that we were down, it's satisfactory. You wouldn't be happy with it – I personally think we should have had four, at least.
"But it's very difficult against those teams. They're coming at you, they have more possession – well, certainly Shamrock Rovers did, even though they didn't create much.
"It's definitely difficult when we have our full squad, let alone missing six (for Cork game) and eight players (Rovers).
"The performances, particularly from a defensive point of view, have been decent. We only conceded from two penalties, so that's a positive.
"We've got to keep it like that. We've got to keep things tight, and if we do that then we have a chance in every game.
"That's the way that we should be going for the next while – that's all I'm looking for on Friday night."
Looking ahead to the test in Inchicore, Barrett added: "St Pat's are a very good side. They have technically very good players, they like to play good football, and they seem to have tightened up at the back a bit better this year.
"It will be a very difficult task for us, but every game is difficult for us. We have to be on it, we have to be ready to battle, ready to keep it tight, and see can we get a goal.
"St Pat's will have looked at us now and I'm sure they will have their own game-plan. They can score goals from all over the park. It's a really difficult task for us going up there, but we'll give it our best shot."
Limerick still have a number of injury problems going into the St Pat's game. Eoin Wearen and Mark O'Sullivan are definitely out of the game. Barry Maguire is set to return to action along with Shane Tracy but doubts remain over the availability of Daniel Kearns and Danny Morrissey.