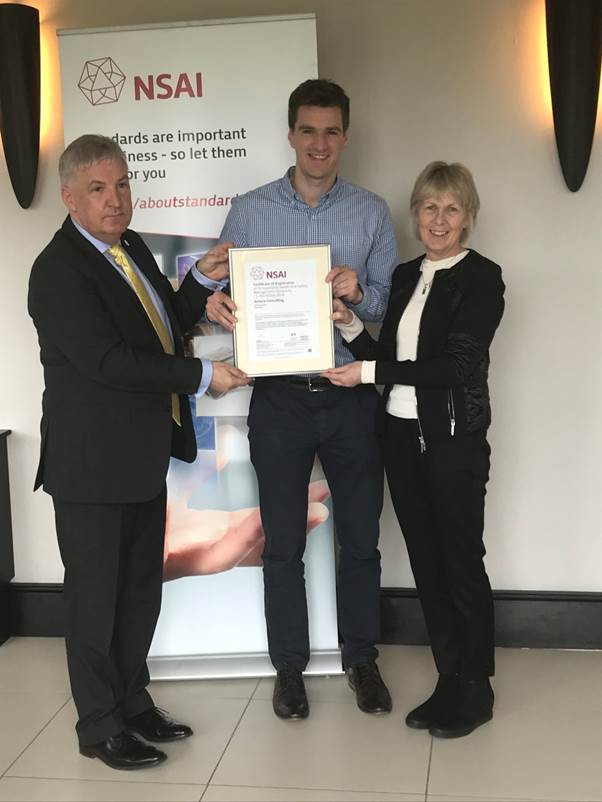 A Limerick consultancy firm has become the first company in Ireland – and among the first in the world – to achieve certification to a new global health and safety standard, known as I.S. ISO 45001.
Antaris Consulting was presented with its certificate last week by the National Standards Authority of Ireland (NSAI) at the company's head offices in Pery Square.
Founded in 1994, Antaris Consulting is one of the best-known management systems consultancies and software solutions providers in Ireland. The company's flagship software, Pegasus Legal Register, is used by organisations across the world to identify and monitor their legal obligations, which is a requirement of many ISO standards, including I.S. ISO 45001.
"It is a great achievement on being the first company certified to I.S. ISO 45001 in Ireland. Not only does the certification continue to secure the safety of our staff, but it also demonstrates our ambition to be the leading consultancy in ISO implementation," said Eugene Cush, Consultant, Antaris Consulting
"I.S. ISO 45001 complements our existing certifications to ISO 9001 for Quality Management, ISO 14001 for Environmental Management and ISO 27001 for Information Security, which gives our clients confidence that Antaris are experts in the field of ISO management systems," said Mr Cush.
First launched worldwide on March 12th, I.S. ISO 45001 for Occupational Health and Safety, sets the minimum standard of practice to protect employees worldwide.
"This much-anticipated standard was developed over several months with the input of experts from more than 70 countries," said NSAI Chief Executive, Geraldine Larkin.
"I.S. ISO 45001 is set to transform workplace practices globally and I am extremely proud that NSAI has been able to offer it to Irish businesses from day one," she added.
Health and safety in the workplace is the number one concern of most businesses, yet still deaths and injuries occur. According to the Health and Safety Authority, 501 people have died in workplace accidents in Ireland since 2008, with 47 deaths in 2017 alone. Almost half of all deaths occurred in the agriculture, forestry and fishing sectors.
"Globally, more than 2.78 million fatal accidents occur at work yearly, with some 374 million incidents of non-fatal work-related injuries and illnesses," said NSAI's Head of Business Excellence, Fergal O'Byrne.
"This paints a sober picture of the modern workplace – one where workers can suffer serious consequences as a result of simply doing their job. The beauty of ISO 45001 is that it's applicable to all organisations, regardless of size, industry or nature of business." said O'Byrne.
I.S. ISO 45001 is designed to be integrated into an organisation's existing management processes and follows the same high-level structure as other ISO management system standards, such as ISO 9001 (quality management) and ISO 14001 (environmental management), which are used by more than 3,000 companies in Ireland today.
Key potential benefits from use of the standard include a reduction of workplace incidents, reduced absenteeism and staff turnover, reduced cost of insurance premiums, the creation of a health and safety culture, reinforced leadership commitment to proactively improve Occupational Health and Safety performance, enhanced reputation and improved staff morale.
More about business here.