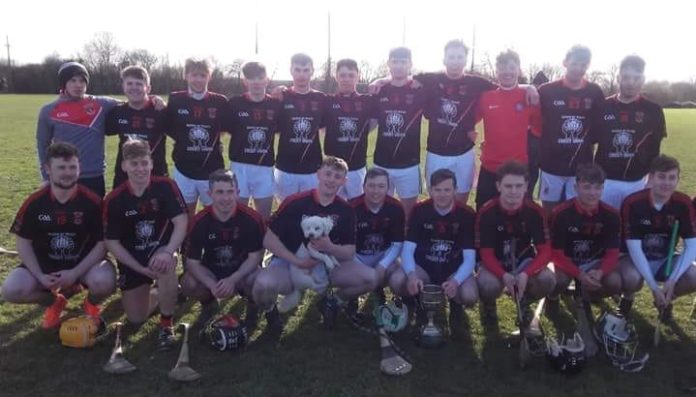 CAPPAMORE GAA
U-21s
Sign up for the weekly Limerick Post newsletter
Kilteely-Dromkeen 3-10 – 1-13 Cappamore 1-13
Cappamore U21's exited the 21 Championship on Saturday with a loss to Kilteely-Dromkeen. The game started brightly with points from Joe Lonergan and Jack Leonard. A Liam Creamer goal after 15 minutes had Cappamore in the lead 1-3 to 0-3. Kilteely-Dromkeen had a good period in the second quarter responding with 1-3 to 1 point from Cappamore. Half time score 1-6 to 1-4 in favour of Kilteely-Dromkeen.
The second half was tightly contested, with both sides exchanging scores in the third quarter. Scores came from Joe Lonergan, Liam Creamer, Kevin Doyle & Kevin Ryan. Two goals conceded in the final quarter ended the Cappamore challenge. We ran out with a six-point loss.
Team: 1 David Holmes, 2 Conor Fitzgibbon, 3 Paul Campbell, 4 Gearoid Hogan, 5 Jamie Mc Carthy, 6 Jason Fitzgibbon, 7 Kevin Doyle, 8 Brian O'Donoghue, 9 Donal O'Mahoney, 10 Joe Lonergan, 11 Ben Leonard, 12 Liam Creamer, 13 Jack Leonard, 14 Kevin Ryan, 15 Matthew Ryan, Subs: Brandon Shanahan, Mark Gleeson & Michael Moore.
Green and Gold Lotto
Draw held on March 12th for Jackpot of €15400. Winning Numbers: 4,12,22,26. There was no winner, 10 lucky dip winners were: Seamus Coffey, Turagh; James O' Donnell, Pallasgreen; Jody O' Carroll; Bee Leonard; Ciaran Ryan, Killuragh; Matthew P O' Malley, Towerhill; Annette Stokes, Pallasgreen; Kathleen O' Connor, c/o Matthew O' Malley; Nora O' Connell, c/o Pa Creamer, Patsy McMahon, c/o Tony Foley. Next weeks jackpot €15600.
GARRYSPILLANE GAA
Upcoming Fixtures
County Hurling League – 25th March 2018 Garryspillane v Ahane in Knocklong at 3pm
Weekly Lotto
There was no winner in this week's €8,650 Lotto Jackpot. The numbers were 12, 14, 15, 26. The lucky dip winners were Rogie Sheehy Martinstown, Pauline Walsh c/o Creeds, Paddy & Marie Burke, Shane Russell, Mike Henebry c/o The Welcome Inn. Next jackpot will be €8,700 and will take place in on Mon 26th  March in TThe Welcome Inn. Tickets available in The Hill Bar, The Welcome Inn, Meade's Shop, OPTP, Creed's, Fogarty's or from any committee member
Membership
Membership now due for 2018 – €30 per person – €40 per player – €50 per family. It is important to be registered as it covers you for the player injury scheme. If you are not registered and unfortunately get injured while playing, then you would not be covered for any medical expenses or loss of earnings.
Garda Vetting
All Officers, Mentors, Coaches, First-Aiders, are asked to update their Garda Vetting information. This is a legal requirement for coaching and any activities regarding underage players. This can be done on line. at https://vetting.garda.ie/. Any queries please contact Caroline McGrath Child Welfare Officer.
Con & Annie Kirby Memorial 2018
Greyhound Racing makes a great night out for the whole family. First Round – this Saturday 24th March at Limerick Greyhound Stadium – We need your support and dressed in your Club Colors
Leader Funding
We are delighted to announce that we have been successful in our funding application. This funding will enable us to light our 720m walkway which is located around our playing pitch – work to commence in the coming months.
Congratulations
Congratulations to Keeva O'Brien, Roisin O' Carroll, Emma English & AnnaRose Kennedy on their PPS Senior C Camogie All Ireland title with John the Baptist C.S.
Also well done to Fionn Flanagan on making the Ireland U18 Rugby Team and to John Paul O'Connor who was crowned Handball All Ireland Champion last week. Hearty congrats as well to John Kiely and the Limerick Hurlers on their win over Clare at the Gaelic Grounds this week.
Team Clean Up
On Good Friday 30th March at 10am – 12pm – We need you young and old to help out with a few jobs/tidy up that is needed at the pitch in conjunction with Team Limerick Clean Up. Bring your strimmer, lawn mower, hedge clipper, shovel, wheelbarrow, rake, etc
Club Gear
Now on Sale – O'Neill's Garryspillane half-zip tops & black/amber skinny pants. Kids tops & pants, Adults tops & pants, Caps, etc. To order Contact Caroline on 087 8200463.
Bord Na nÓg
Bord na nÓg Registration Evening will be held in the meeting room in Community Centre, Knocklong on Monday 26th March from 6pm to 7pm.  Child €10, Family €20.  Any queries contact Criona on 087-7489891.
For more club info, find us on Facebook: Garryspillane GAA Club. Find us on Twitter: @GarryspillaneGA
MUNGRET ST PAULS GAA
Ladies Football
Mungret St Pauls 0-6 – 6-6 Murroe Boher
On a bright and dry Mother's Day evening our ladies minor team lined out to face Murroe Boher in the development minor league at home on the Village pitch.  For many of our players this was their first outing of the year and the cobwebs were soon blown away when Murroe Boher took an early lead. Both teams moved the ball well, particularly down the wings with some moves leading to decisive Murroe Boher goals. In the second half, Mungret St. Pauls contested better in midfield and contained the movement of Murroe Boher going forward.
Our backs and goalie did some excellent defending with tackles and blocks preventing Murroe Boher taking many scores, while at the other end, our forwards foraged back and took some excellent points of their own.  Despite the finishing score line of Mungret St Pauls 0-6 to 6-6 for Murroe Boher, it was an entertaining game with many good movements and plenty of promise shown by our ladies.
Lining out for Mungret St. Pauls were : Aine Joyce, Clare O'Meara, Ella Mason, Emma Bourke, Fiona O'Brien, Joanne Foley, Karin Mason, Olivia Kerins, Rachel Fennell, Roisin Moran, Shanan Barron, Sophie O'Brien and Zoe Mangan.
Junior Hurling
In unforgettable weather on Sunday 18 March, Mungret St. Pauls were able to call together a team to start the game in Crecora. It was tough conditions to be playing in, well done to all the players who took to the pitch for both teams, there was delightful news at half time when ref Trevor Mann decided to call the game off as the weather was not making viability easy. These teams will meet later in the year in better conditions.
U-14 Feile Football
Mungret St. Pauls 3-3 – 1-3 Newcastle West
On Sunday 18 March in baltic weather in Askeaton our brave U-14 football players took to the pitch and put in a great first half building up 2 goals. The third goal came in the second half from a well taken penalty this secured their place in the Féile Football final on Easter Sunday against St. Senans.
Easter Camp
Mungret St. Pauls will again be hosting their 3 day Easter Camp from Tuesday 3 April to Thursday 5 April from 10am to 2pm. Forms are available on our website in downloads to print and hand in with the appropriate payment to the club shop on a Saturday from 11.30am to 12.30pm or on the first day of camp.
U-21 Hurling
Mungret St. Pauls 3-9 – 5-9 Kilmallock
On Monday 12 March the U-21 hurlers headed to Mick Neville Park to play the last game in their group against Kilmallock who were leading the table. Going into this game our young U-21 team knew they were going to have a tough game but they held themselves very well and finished the game with only a 2 goal difference.
Registration
In order to be eligible to play for the club every player needs to be registered by the end of March. Completed forms can be dropped into the club house on a Monday night from 9pm on or in the club shop on a Saturday morning 11.30am to 12.30pm.
If any coach has a form we urge you to have them dropped into the club house before the end of March. Forms can be downloaded from our website www.mungretstpauls.com in the download section.
Women on the Move
There was a fantastic turn out again at the Women on the Move in Mungret St. Pauls on Thursday night. We are very thankful to Limerick Sports Partnership and the Healthy club for bringing this to our club where all women over the age of 30 can take part wither they are members of the club or not, it is open to everyone. If you were unable to participate last week you can still join in on Thursday at 7.30pm.
OLD CHRISTIANS GAA
U-21 Hurling
Pride of place this week goes to our U-21 hurlers along with Claughaun after they beat Kildimo-Pallaskenry after extra time in the City Final on a 3-22 to 4-13 score. Congrats to the panel and management team on an unbeaten run through the championship. Their next game is the Co Semi Final against Ballybricken-Bohermore in Cappamore this Saturday at 4pm. All support would be greatly appreciated.
Intermediate Hurling
Our Intermediate Team with Claughaun got their season underway with a 0-16 to 1-5 win over Croagh Kilfinny in the All County Hurling League on St Patrick's Day. Well done on a great start to the season. Next game takes place away to Tournafulla on Sunday morning at 12pm.
Social Media
For all club news please visit our social media sites. We can be found on Twitter: @ocgaaclub and Facebook on https://www.facebook.com/groups/299797406269/?ref=bookmarks
PATRICKSWELL GAA
Night at the Dogs
On Saturday 7th April 2018, the club are hosting a greyhound racing night on Dock Road. The date is close on the horizon now.
We need the entire community to get behind this event – both individuals and businesses. Tickets are €10 (children go free) and include a race card & free entry into the raffle. The Woodlands House Hotel have generously offered a two night stay at their Vienna Woods Hotel in Cork as a draw prize.
This event is proudly sponsored by Duggan Systems Limited.  Please purchase an entrance ticket or buy advertising space in our race card.  This night promises great entertainment and fun for everyone. In the coming days and weeks, our ticket sellers will be calling door-to-door.
Adults and children can nominate dogs for €25 and €5 respectively. The winner of each race will receive a memento trophy and the child has the opportunity to parade their dog before the race.
Senior Hurlers
Patrickswell made an emphatic start to the All County Hurling League with a comfortable 3-24 to 0-9 win over Ahane at the University of Limerick.
Club Limerick Draw
The Club Limerick Draw is a vital part to the success of our County teams. It raises much needed funds for clubs to the tune of €400,000. The Club Limerick Draw will help development of the Gaelic Grounds and Mick Neville Park to make it a centre of excellence with four full size pitches, including synthetic pitch, flood lighting and ball alley.
There will be thirty Guaranteed Cash Prizes per month with top prize €12,000 & a Star Car prize in December worth €25,000. You can play online: http://limerickgaa.ie/club-limerick-draw-signup/ or contact any Patrickswell GAA club member or call/email Siobhan in the Limerick GAA Office on 061-335516 / [email protected]
Club Membership
Annual Club Membership is now due. It is vitally important from an insurance perspective that every player is a member. Our fees are competitively set at €25 juvenile and student, €45 adult and €80 family. Please ensure that membership is settled as soon as possible.
ST PATRICK'S GAA
Easter Camp
St Patricks GAA  will  hold the annual Easter camp for boys and girls. Beginning Tuesday April 3rd to Friday April 6th inclusive, 10am-2pm daily. Easter camp is a great way to learn some new skills while having great fun and making new friends. Cost is €25 per child.
Bord na nOg Hurling
Under 6, 8 and 10 hurling will be back on the field in Rhebogue from this Thursday at 6.30pm. New members are  very welcome as always.
St Patricks U12 Hurling team played Murroe-Boher  and Monaleen in a blitz in Rhebogue on Tuesday. This is a very young panel who were competitive in both games and always welcome new players.
Well done to Gearoid Hegarty and the Limerick Senior Hurlers who edged Clare in a dramatic game in the Gaelic Grounds to reach the national hurling league Semi Final.
Bord na nOg Football
The Underage  football championships  will begin with our U15 footballers due to play Kilpeacon at home on Monday March 26, and the U16 footballers at home to Fr Casey's on April 2. Best of luck to both panels and their management.
Senior Football League 
The Senior  County Football League game v Monaleen  was postponed on Friday due to the field being unplayable following heavy rain. The Limerick Senior football Championship was due to begin on the Easter weekend but will now be re-fixed with Limerick senior hurlers reaching the league  Semi Final.
Girls Football
Well done to St Patrick's Savanah Moran who played with the  Limerick u16 girls football team, in a great victory over Waterford  in the Munster Championship winning on a scoreline of 3-7 to 0-12.
Club Limerick Draw 2018
By Joining the CLUB Limerick Draw 2018 you will be helping your club to raise much needed funds but you will also be in with a chance of winning one of 30 CASH PRIZES & in December be in with a chance of winning a Star Car Prize. Timmy O Connor received a cheque for €2000 that was won in November's Limerick Club Draw.
We have had many winners in this monthly draw, which is of great benefit to the club. Be sure to join for 2018.