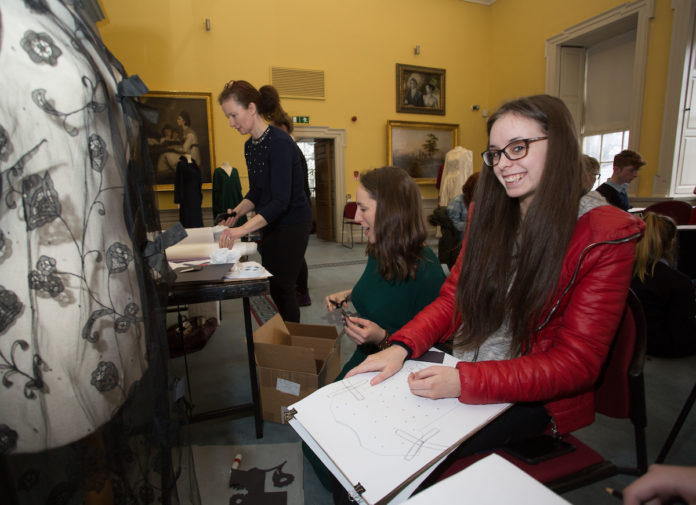 Second level students from County Limerick were among 32 students selected to take part in a unique fashion design workshop facilitated by Irish fashion designer and lecturer, Ruth Duignan from the Limerick School of Art & Design, LIT.
The work produced in the course of the workshop will go on display in Limerick's Hunt Museum this May.
The "Past Projections: Future Fashions" workshops took place over two days in both the design studios of one of Europe's most acclaimed fashion design colleges – LSAD and among the illustrious Sybil Connolly collection at the Hunt Museum.
Sign up for the weekly Limerick Post newsletter
The workshops allowed young budding designer from all over Ireland to discover more about the craft of fashion and how to be part of the fashion industry's promising future.
Using Sybil Connolly's collection as inspiration, the students produced their own original designs which were digitally captured, manipulated and projected onto white t-shirts.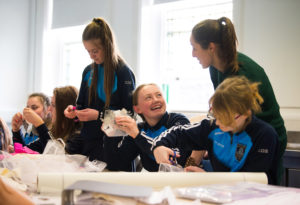 The Students' finished pieces will then be showcased at an exhibition at the Hunt Museum in May.
In applying to take part in the workshop, the students selected a Sybil Connolly design from the museum's online archive and submit a brief proposal, outlining how they would redesign it.
Mike Fitzpatrick Dean, Limerick School of Art & Design and Director Cultural Engagement said he was encouraged by the creativity and dedication of the students who applied to take part in the workshops.
"Many of Ireland's leading designers learnt their craft and began their careers here at the Limerick School of Art and Design. Thousands of designers have developed their talent in the college since it was first established in 1852, and yet there is always a feeling of something new, fresh and original with every new enrolment," he said.
"The talent, creativity and enthusiasm among the students who took part in the "Past Projections: Future Fashions" workshop was extremely encouraging, and I look forward to seeng their contribution to Irish fashion design in the near future."
Naomi O'Nolan, Head of Collections & Exhibitions, The Hunt Museum said the museum was delighted to facilitate  "Past Projections: Future Fashions."
"The workshops drew on our strong fashion history, as the students immersed themselves in the work of Sybil Connolly here in the Hunt Museum, while also looking to the future of fashion with staff from LSAD. They were encouraged to embrace all stages of the design process and encouraged to learn new techniques using the latest technology."
The students finished pieces will be showcased in an exhibition at the Hunt Museum in May.
More local news here.