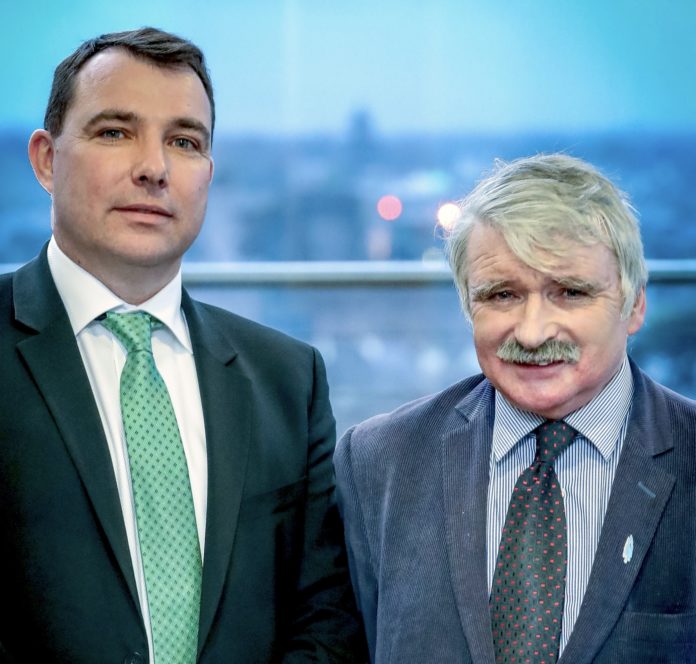 IF you are a Collins and from Limerick, politics is sure to course through your veins and for newly selected Fianna Fail general election candidate James Collins, that is certainly very true.
His father was a TD, his uncle a cabinet Minister and his first cousin a party spokesperson in three portfolios and now the Dooradoyle native is looking to elevate his political carer to capture a seat at the next elected Dail.
Addressing the recent selection convention, the married father of four wants to help mould "a city that works for you".
With Limerick claiming recent accolades at European level, James Collins feels that Limerick's reputation is now soaring after it announced 2,500 jobs last year, something that can be built upon.
"I got involved in local politics nine years ago when Limerick was in a much darker place. Job losses hit hard. I felt I could help. My friends, my neighbours, our community, they were all in a bad place. My business was in the middle of a neighbourhood that needed help to change. The economy of Limerick needed to change to survive the downturn and get back on the road to recovery.
"The single biggest lesson I've learned in those nine years is that politics can help change people's lives, so long as you have a long-term vision, and a strategy for getting there.
"Limerick is a case study in how to strategically tackle economic issues; in how to put in place structures and cultures that allow businesses to flourish, generate employment, and in turn create opportunities for people to live in a city that works for them.
The elected local authority representative said that brave decisions by local councillors "were the springboard for the strategic recovery of our city.
"We took some tough decisions to stabilise the local authority's finances, and this gave us the ability to buy strategic sites for development around the city.
Noting that Limerick is the European City of the Future for 2018/19, Cllr Collins said that this was evident "because all around us we can see Limerick's future taking shape – whether it's hard-working families enjoying some leisure time in Mungret Park, or the young men and women in their 20s embarking on financially rewarding and diverse careers in IT, financial services, or the digital economy."
James Collins graduated from the University of Limerick and travelled before he and his wife Eileen returned to Limerick to settle and raise their family.
In 2000 Limerick had few opportunities, but that has changed as "the Limerick of today is High tech, Fintech, Pharma, Life Sciences. It is Dell, General Motors, WP Engine, Regeneron, Uber, Vistakon, Jaguar, Stats, Edwards Life Sciences, Tekro, and Design Pro. It is Limerick for Engineering, Limerick for IT. It is Troy Studios. There is more to come.
"We have diversified. We are thinking differently, bigger, better, smarter.
The city's progress will shine through developments like the Opera Site and Gardens International but we can be under no illusions: there are many social problems that remain, Cllr Collins said.
"Life is about living, so while we build the economy, we also have to build the society around it.
Selected on the Fianna Fail party ticket, James Collins said that he wants to help make sure that everyone has a fair chance, and an equal opportunity to access jobs and education, housing and healthcare.
"The reason I want to take the next step now and represent Limerick City in Dail Eireann, is because the problems that still exist: the housing and rental crisis, overcrowding at University Hospital Limerick, social deprivation, crime, the lack of a proper 21st Century transport network for our city – these are problems that have to be addressed through national policy.
Limerick needs political leadership to match this ambition and deliver Limerick's future. That's why I'm putting my name forward for election to Dail Eireann.
James Collins joins sitting TD Willie O'Dea as the candidates for the next general election in a bid to gain a second seat for his party as the Limerick man feels "we need a government less focussed on trying to look good and more focused on doing good."
See more Limerick news here