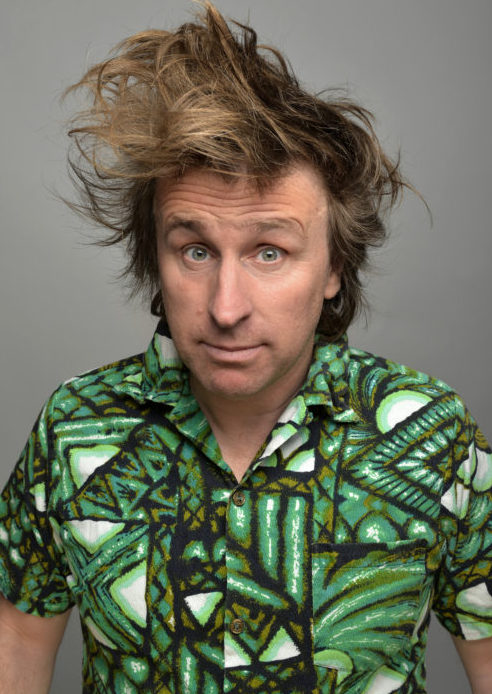 COMEDIAN Milton Jones is most definitely out there in every sense of the word.
The UK comedian with the messy hair and loud shirts best known to us for his one-liners on BBC's Mock The Week is bringing his 'Out There' show to Lime Tree Theatre.
He has bee on tour with this show for almost 90 dates and when he comes to Limerick for the first time next week, he will be on the home stretch playing his last few dates.
"It feels like I have been doing it for about three years. Its all good – its only been six months – I enjoy it but you can't do much else. And I have got ten left to do."
Milton has been on the panel of Mock The Week for nine years now.
Regularly, the comedian will inadvertently catch his younger self on the telly – such is the proliferation of older episodes of the series on the Dave Channel.
Milton reckons that Mock The Week hasn't got much to do with the news – "it is just jokes" – which is why it lasts and can be repeated so often.
"It is all about jokes rather than making political comment."
That said though – episodes of Mock The Week from two/three years ago had the panel joking about Trump possibly being elected president or Britain exiting the EU.
Milton's current show is influenced by these recent events.
"Well the bar for getting into politics has been set quite low now. The show is based on How bad would it be if I had a go!
"If Boris Johnson is running for Prime Minister – I might as well have a go – We don't want an idiot with stupid hair running the place." laughs.
"That triggered lots of other thoughts in my head about what stupid things could I come up with. There is a vague skeleton of politics running through the show. But basically it is a chance for me to do lots of stupid jokes.
"It won't change political opinion but there ill be jokes."
There is a new series of Mock The Week being made later this year and Milton will be on board with that.
The live recordings he says can go on for two and a half hours sometimes and there is a charged atmosphere in the studio as the panel hustle for the best laughs and the most airtime.
"It always feels like seven comedians trying to fit through a door made for two!"
"It is quite easy to zone out and forget you are on television sometimes.
"I thought, if I put my hair up and wore a silly shirt and made a funny face I would get another five to ten seconds on air.
"To help draw people into my world." laughs.
Here in Limerick we will get a chance to be drawn into Milton's world when Milton Jones is Out There' comes to Lime Tree Theatre on Thursday April 19.