Hunt Museum has chosen some of its collection of Sybil Connolly clothes, sketchbooks, swatches, glass and ceramics to explore the trailblazing design career of Sybil Connolly.
Her fame outside of Ireland is shown in the magazines of Vogue and Harper's Bazaar and her entrepreneurial spirit was ground-breaking for the period.
Chair of the Hunt Museum Friends, Kathleen O'Sullivan, who wrote her MA thesis on Sybil Connolly's impact on the Irish Fashion Industry and currently works as Supervisor of Ladies Fashion at Shaw's Department Store, Limerick says: "Sybil Connolly was a fashion designer who wanted to break the mould, persuading the sisters of the Order of St. Louis.to let her dye their lace, pink instead of the regulation black or white.
She is an amazing example of a woman working in 1950's Ireland, pushing the boundaries of
creativity and of the expectations of a woman's role in the workplace and society." Sybil Connolly was a Dublin based fashion designer, renowned for creating haute couture from Irish
textiles. She used materials such as finely pleated handkerchief linen, delicate Carrickmacross lace and durable Irish tweed to create designs inspired by Irish people, traditions and culture.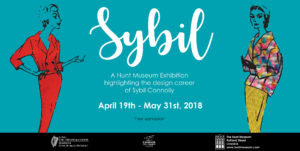 Dubbed by the media as "Dublin's Dior", Sybil Connolly was a pioneering designer and one of the first Irish fashion designers to have international success. She surprised and delighted the
international fashion world with her creations, and worked with stores such as Tiffany & Co, Bloomingdales and Lord and Taylor, in New York. Famous clients included Jackie Kennedy Onassis, Adele Astaire and Mrs. Gregory Peck.
Later in her career, she reinvented herself, turning her attention to interior and garden design, creating wallpapers, fabrics, glass and ceramics for companies such as Tipperary Crystal.
The medium of Fashion makes art, design and science accessible for everyone.
Making it available online means new audiences can experience and learn in their own online spaces. In parallel with the opening of "Sybil" as a physical exhibition on April 19th , the Hunt Museum website launches on May 24th, an online exhibition of her work and story.
The Hunt Museum encourage people to participate via #SybilInLimerick and actively add to their Tumblr and Pinterest boards about her and her work. Keep an eye on the Hunt Museum's website for news on our Sybil related education workshops, lectures, and very excitingly the first Wikipedia Editathon in Limerick.
More local news here.