Forty years of Muintearas Íosa and the depth of spirituality, fun and friendship that has been indelible to this Limerick Diocese youth ministry group has been marked with a wonderful and nostalgic coming together.
In a special gatherings this year to mark this notable anniversary of an organisation that sailed a thousand friendships, life-long memories and even marriages, over 200 members past and present of the group gathered at St. Munchin's College recently.
The event was a trip down memory lane, a renewal of friendships, a renewal of faith and loads of laughter as friends old and new celebrated the movement founded by Fr. Micheál Liston in 1978.
The then 'younger' Limerick priest had brought a group of Limerick people from their late teens and their early 20s down to the Irish language house Bru na Graige for a weekend to further their faith in a fun environment. And such was the success that they were not willing to wait another year for a second gathering but, instead, regrouped at a location in Limerick. The rest, as they say, is history.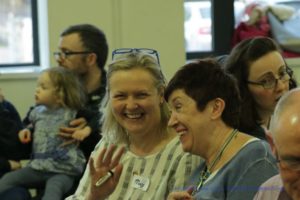 A 'Limerick' home for Muintearas was found at the old Good Shepherd Centre at Boland's Meadow in Foynes.  Over the past 40 years Muintearas Íosa has had, on average, six gatherings annually attended by young people from across the diocese in locations from Bru na Graige, on the Dingle Peninsula to Foynes and Roscrea in Tipperary to St. Munchin's College itself.
Weekends have also been hosted in Dublin, Cork and further afield, attracting not just young people from the diocese but from across the island and beyond.
And Muintearas is still going as strong as ever, evidenced by the recent event when 80 young people stayed-over at the Limerick Diocesan Centre for their Easter gathering.
Congratulating Muintearas on its longevity and ongoing success, Bishop Brendan Leahy said:  "Muintearas really is a great movement and to see it going so well today, all those years later speaks volumes about it.  There's such a sense of joy from it, incredible energy and it's very heartening so see young people committed to something that has a lot going on but, ultimately, faith at its core."
He continued:  "Father Micheál Liston and co have adopted a very appropriate theme of the 'three fires' – failte (welcome), foghlaim (learning) agus gui (prayer) for Muintearas and this encapsulates it perfectly.  Micheál Liston and the many other doyens of this organisation along the way over the years have certainly lit a fire and that flame is clearly going to burn long into the future based on the energy and enthusiasm we saw for the organisation at the recent gathering."
Fr. Liston reminded those in attendance at the celebration that Muintearas is Irish for the spirit of extended family and friendship and that's exactly what they have developed over the years.
"The Muintearas achieved a way of doing things that gave evidence on our weekends to this great idea that being a Christian is about being part of a family. Muintearas is an extended family. "
"Our Muintearas is accessible to everyone and our gatherings enables us celebrate the joy and friendship we have had in a glorious mixture of our ordinary humanity and the work of the Holy Spirit." Fr. Liston concluded.
More local news here.