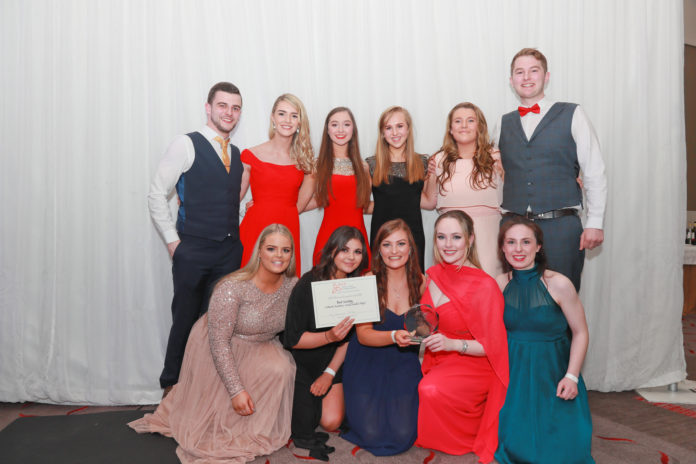 Over 400 staff and students from colleges across Ireland took part in the annual Board of Irish College Societies (BICS) Awards; held in the Radisson Blu Hotel, Cork.
This event sees student college societies, from all over the country, compete against each other for 20 awards in 13 different categories. One of the major highlights in the college calendar, these awards celebrate the unyielding work students do to create a greater, more enjoyable and more holistic college life for their peers.
The awards saw students from both Mary Immaculate College and University of Limerick awarded for their hard work . The winners were;
Best Individual (Large College) – University of Limerick – Conor Walsh
Best New Society (Small College) Mary Immaculate College Limerick – MIDANCE Society (winners inset) Clara Casey, Laura Keyes, Jessica O'Callaghan, Katie Keyes, Madeline Dolan, Emma Teahan, Becca O'Brien
Best Society in a Cultural, Academic or Social Field (Sponsored by USI) (Small College) – Mary Immaculate College Limerick – MIDAS (inset winners) Ryan O'Sullivan-Glynn, Clodagh Cummins, Niamh Fenton, Catriona Feehily, Clíodhna McNelis, Sophie Horan, Claire O'Neill, Louise Cashman, Lee Dillon, Kate Galligan, Julianne Hurley
Best Fresher (Large College) – University of Limerick – Ethan Carey
This year's awards were in partnership with Please Talk, Partridge Peartree, USI & Comhlámh.
Both Comhámh and Partridge Peartree are continuing their support of the BICS Awards for a second year and, for the third year, Please Talk have been on board sponsoring the
Best Mental Health Promoting Event. Comhámh is an organisation which supports charity and
civic organisations that are involved with social justice, human rights and global development
issues. The Comhlámh Code of Good Practice for volunteer Sending Agencies ensures that
international volunteering has a positive impact on the volunteer and the host community.
More local news here.