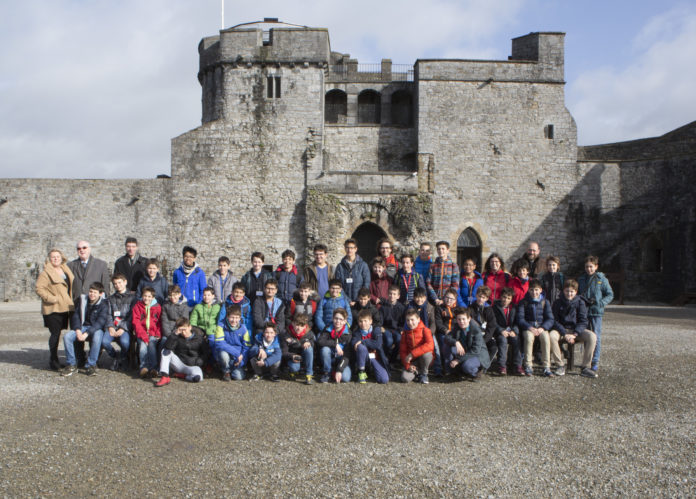 The world famous Spanish Monserrat Boys Choir paid a surprise visit to King John's Castle today to perform for visitors.
Aged between 10-14 years, the 42 strong choir delighted visitors to the castle. The choir of sopranos and altos based at the Benedictine abbey Santa Maria de Montserrat near Barcelona and are staying in Glenstal Abbey during their visit to Limerick.
In addition to their appearance at King John's Castle, the Group enjoyed a Mayoral reception at the Town Hall with the Mayor of the City and County of Limerick, Councillor Stephen Keary. The group's trip to Limerick was facilitated by Tony Brazil from Limerick Travel who is the Spanish Honorary Consulate in Limerick. The choir will perform at the Redemptorist Church in Limerick on Thursday evening.
Welcoming them to King John's Castle Linda Hall from Shannon Heritage said: "We were honoured to welcome this prestigious choir who have performed all over the world including Carnegie Hall. The unique acoustics at King John's Castle created an ideal backdrop to highlight the talents of these wonderful performers.  Our visitors were thrilled to hear them.  With the newly launched Ryanair flights to Barcelona from Shannon creating a bridge from Shannon to that beautiful part of Spain we look forward to welcoming additional Spanish visitors to Limerick."
The Monserrat Boys Choir is one of the oldest boys' choirs in Europe. Documents testify to the existence of a religious and music school in Montserrat as far back as the 14th century.
More about society here.