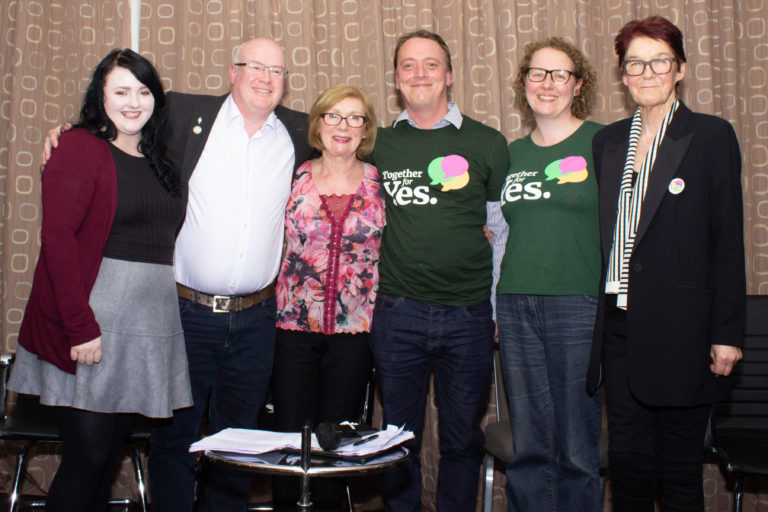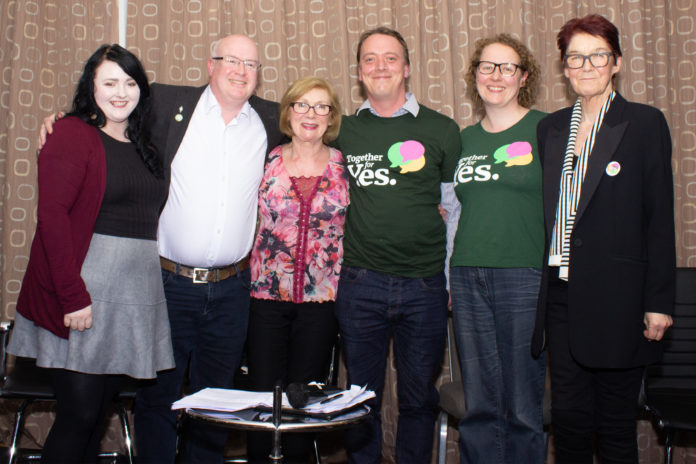 Together for Yes is the National Civil Society Campaign to remove the Eighth Amendment from the Constitution. The format of the Limerick launch was a facilitated discussion looking at the process by which Government arrived at the decision to have a referendum on the Eighth Amendment.
The panel included former Citizens Assembly member, Beckha Doyle, Eighth Committee members, Deputy Jan O'Sullivan and Senator Paul Gavan, Deputy Chairperson of Limerick Together for Yes, Jennifer Schweppe and arguably the highlight of the event, Co-Director of the national Together for Yes campaign, Ailbhe Smyth. The event MC was Thomas Bibby from the Green Party.
During the event when addressing the crowd Ms Smyth commented, "It's wonderful to see this huge gathering in Limerick, it is incredible, not enough seats in the room". She continued, "Our message is clear, we want compassionate care for all people in this country. We want this country to be fairer and gentler, and a country that values women."
Labour TD, Jan O'Sullivan said, "It was a privilege to be part of the panel of speakers at the launch of Limerick Together for Yes campaign with a packed room of people from right across Limerick life and political parties, all determined to win this referendum and to take the complex and personal issue of abortion out of the Constitution.  The overwhelming message is that we need to care for women in their own country, in their own health service.  We will work together in a unified campaign and I would urge others to join us to finally, after 35 years, persuade people that we need to repeal the Eighth Amendment."


Sinn Féin Senator, Paul Gavan, followed, "Tonight we had a room full of people from all parties and none, uniting for one key purpose; to remove the Eighth Amendment from our Constitution and place care, compassion and respect for women at the heart of our society and our public healthcare system."
Event MC Thomas Bibby from the Green Party, concluded, "It was a privilege to hear about the evidence presented to the Citizens Assembly and Joint Oireachtas Committee tonight. We are delighted to support Limerick Together for Yes in campaigning for a more compassionate Ireland that allows abortion care for women who need it. Our members are reporting positive reactions on the doors on the Limerick Together for Yes canvasses but there is no room for complacency in this campaign."
More about society here.