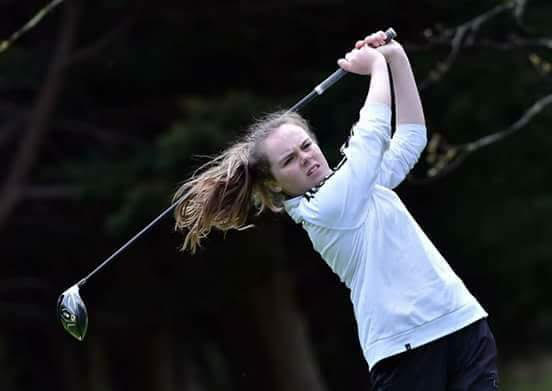 Ballykisteen Golf Club
Ladies
Sign up for the weekly Limerick Post newsletter
Our Challenge Cup Team was very unlucky to lose out in the first round of the ILGU AIG Championships this weekend against a strong Adare Manor side but not without putting up a great fight.
An early win from Anne Quane and Aileen Beary secured the first  two points for Ballykisteen but that was to be the only wins, as we saw three of our ladies go out on the 16th, 18th and even down the 19th in the other matches.
This was a first matchplay competition for some of this team and they certainly did Ballykisteen GC proud. Team: Fiona Bourke, Aileen Beary, Mary Lynch-Kavanagh, Anne Quane, Barbara Leahy, Vivienne Dee and Claire Ryan, Manager LVC Catherine English and assistant manager LC Caroline Cussen.
The Ladies Club will be back out in force with three teams in Rd 2 of the Championships on Sunday 29th April; Minor (HC 22-17) V Kilkee in [email protected] 16.15; Intermediate (HC 16-21) V Nenagh in Ballyneety @ 15.30 and Juniors (HC 9-15) V Dromoland also in Ballyneety @ 14.00 so lots of action to look forward too.
Congrats to out Junior Girls Caitlin Shippam and Lauren Kelly who both got a late call-up last week, to play in the Irish Girls U18 Open Stroke Play Championships hosted in Roganstown GC (Swords) 13 – 15 April. While the girls did not make the cut for Day 2 they certainly played great golf in a field of super talent among the cream of young rising Irish golfers.
Local golf has been greatly hampered in Ballyk by the inclement weather but the sun is due to shine and we are hopeful to see more action at 'home' in the coming days and weeks.
Ballyneety Golf Club
Men
Singles match play Qualifier top 32 Qualified
For match play Leading Qualifier
Shane O Neill 39 points, Check the App or call the office to see the draw.
Open singles 12/4/18
Tony Heelen (14) 41 points, Car 70.
Ladies
Club classic Qualifier 11/4/18
1st Angelia O Connell  35 pts
2nd Dolores Curtin      32 pts
3rd   Eithne Hehir        32 pts
Seniors
Champagne scramble 10/4/18
1st  Michael John Cosgrave ,Connie Ryan,Anthony Ryan, John Cooney , 46.3 pts
2nd John Keogh ,Pat Hastings ,James Leonard , 44.6.
Notes for your Diary
Club Classic sponsored by St Albies Credit Union 17 & 18 May.  €300 Team of 3. Tee box
€100. Please support contact Margaret at 061 351881 to book a slot.
Castletroy Golf Club
Mens
April Medal – Sunday 15th April. Sponsored by: Sordillo Chiropractic Centre
1st          John Murray (13)                              69
2nd        Tom Carmody  (16)                          70 (B9)
Gross    Dean McMahon (Scr)                      72
3rd         Robert Holmes (19)                         70 (B6)
4th         James Doran (11)                             70
5th         PJ Noonan (18)                                  71 (B9)
Open Singles  – Wednesday 11th April 
1st          Ronan Murphy (6)                            40pts (B9)
2nd        Brendan Fitzgerald (14) Ballykisteen GC 40pts
3rd         Cillian O'Brien (6)                             39pts (B9)
Ladies
Australian Spoons  – Tuesday 10th April. Sponsored by: 7th Heaven
1st         Trina Lenihan (36) & Aisling Conroy (36)                45points
2nd        Mary Beatty (16) & Miriam Ingerton (25)               39points
BG          Shirley Real (5) & Gwynne Walsh (18)                  35 gross points
3rd         Geraldine Ryan (18) & Joan Eakins (24)                38 points
9 Hole:  Anne Breen Mc Carthy (36)                                   17 points
Singles  – Sunday 15th April  
1st          Anne Byrnes (13)                                                              35pts.
9 Hole: Margaret Ryan (36)                                                         15pts
Seniors
3 Ball  – Thursday 12th April 
1st          Gerry Lowe, Paul Kennedy & Kieran Foley             42pts.
2nd        Pat O'Sullivan, Joe Real & Connie Holmes              40pts
3rd         Martin O'Donnell, Pat Cunneen & Eddie Scanlon    39pts
Newcastle West Golf Club
Men
Tilery Cup 2018
1st O. Byrnes (11) 44pts
2nd T. Hogan (15) 41pts
BG E. Dillane (8) 31pts
3rd M. Fitzgerald (16) 40pts
CSS 37pts
Rathbane Golf Club
Weekend April 14th/15th
V PAR Competition.
1st. Kieran Murphy – Level
2nd Michael Ryan – 2 over
3rd Seamus O'Driscoll – 3 over.
Next weekend sees the first Medal Fixture of the year with our April Medal. This is the first of stroke competitions of the season, and a good turnout is expected.
Shannon Golf Club
Senior Ladies 12H: Maire McMahon(20) 21, Susan Mullen(36) 18 B6, Anne Jones(18) 18.