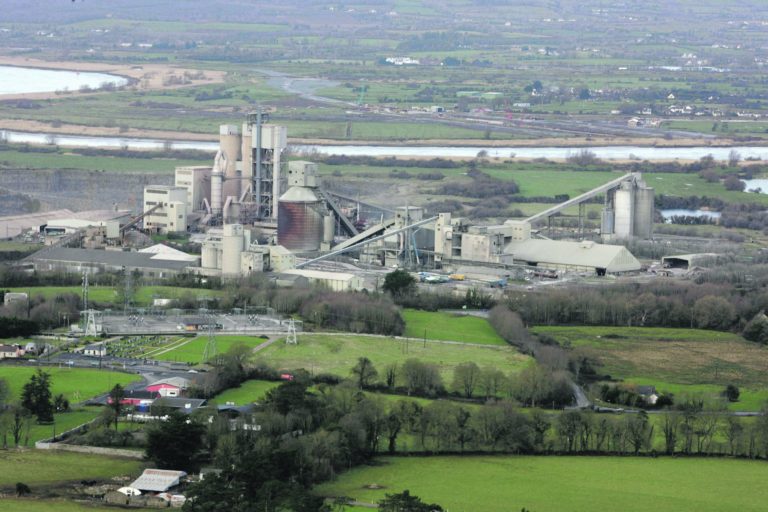 FRIDAY, April 13 was the day when a nightmare became reality for those opposed to Irish Cement's €10 million plan to replace fossil fuels at its Castlemungret plant in Limerick.
In what was perceived by many to be a truly horrifying decision, An Bord Pleanála granted permission for the company to burn alternative waste-derived fuel at its facilities on the outskirts of the city.
Irish Cement quickly welcomed the decision, which allows them to phase out fossil fuels in favour of used tyres and solid recovered waste.
"This development is essential to ensure the long-term viability of the Mungret factory, which is currently the only cement factory in Ireland not using alternative fuels and one of the last in Europe not to be availing of these fuels," a statement from the company read.
The development, Irish Cement say, will reduce the company's dependence on fossil fuels, will reduce CO2 emissions by up to 40,000 tonnes per year, and will help recover valuable resources.
"It will also make the factory more competitive, and support existing and future employment."
But not everyone is convinced, and opponents to the plans say they will not take it lying down.
In City Hall this Monday, Metropolitan district councillors unanimously opposed the planning appeal board's decision to grant permission for the "incineration of toxic waste" at the Mungret plant.
They also called on the Environmental Protection Agency (EPA) to refuse the variation of Irish Cement's environmental license.
Solidarity councillor Cian Prendiville went as far as suggesting "civil disobedience" if necessary.
"I would encourage everyone opposed to this plan to join with Limerick Against Pollution and help build the resistance. We need an active movement and response now more than ever. If we are left with no choice but civil disobedience so be it, but we simply cannot let that happen," he declared.
He went on to claim that environmental policy is dictated by big business.
"We will need people power and civil disobedience to stop this dangerous plan," he added.
Fianna Fail councillor James Collins insisted that the fight to block Irish Cement's plans to burn waste material must be taken all the way to the High Court if needs be.
"This decision will endanger the health of residents for everyone in a 30km radius of the plant. An Bord Pleanála's decision must be fought in the courts. People's valid concerns have clearly not been taken into account. The only option now is to seek a judicial review of the decision in the High Court," he commented.
Sinn Féin councillor Malachy McCreesh also voiced his anger at An Bord Pleanála's decision. He believes that allowing "hazardous waste to be incinerated" at the Mungret facility, will present future generations with possible far reaching health impacts, "due to likely emission of dioxins and furans".
"The campaign by the local community will now have to proceed to the EPA. Locals have had to jump through hoops to have their voices heard on this issue but will continue until sanity prevails. The EPA need to be made aware that the health of the community needs to be respected," Cllr McCreesh said.
LIMERICK Against Pollution (LAP) say the public response to the controversial decision is one of "shock, anger and utter disappointment". The group, set up by concerned residents, plans to hold a public meeting at the South Court Hotel on Friday April 27 at 7.30pm.
"While we are somewhat gratified that Irish Cement have been denied permission to burn 16 out of 114 categories of hazardous industrial wastes, we feel that the dioxin and arsenic risks of burning tyres, plastics, solvents, animal waste tissue and red mud from Foynes has not been adequately addressed," Clare Keating of LAP commented.
"At the oral hearing, the Council's head of planning couldn't even confirm that they'd read the list of hazardous wastes let alone assessed the risk."
"We strongly disagree with the opinion that there is no risk to public or residential amenity considering that planning has been granted for at least 700 new homes under the plume of the factory and six schools are now operating within sight of the plant.
"The EPA has a responsibility to ensure recycling is maximised and that Ireland moves towards a circular economy. We can no longer export our waste problems to China. But instead of developing a strategy for dealing with excess plastics, packaging and municipal waste, we are choosing to sacrifice our air quality and our children's health," she claimed.
Limerick Sinn Féin TD Maurice Quinlivan described An Bord Pleanála's decision as "shambolic and plainly wrong".
"Limerick is in the midst of re-building itself after the devastation caused by the economic crash. A key portion of that re-building is to market our city and region as a great place to live with fresh clean air on the banks of the Shannon River. This decision flies in the face of that," Deputy Quinlivan claimed.
He went on to say that the whole process to date was characterised by a lack of transparency and engagement with local communities, which has left a real "bitter taste".
"People have no confidence that Irish Cement will manage the proposed facility safely and their concerns are real. There have been ongoing problems with this facility and people have little faith in Irish Cement's competency to manage existing operations let alone their technical ability to manage the toxic waste incineration plant, which they are planning to install. If they cannot be trusted now, then how can they be trusted to burn toxic waste without placing the health of local residents at risk?" he asked.
Fianna Fáil TD Willie O'Dea also expressed disappointment over An Bord Pleanála's endorsement of Limerick City and County Council's to grant permission to Irish Cement.
'We are not going to give in as this decision has profound consequences for Limerick. There are a number of avenues which we can peruse and I will discuss these with Limerick Against Pollution and other interested parties," he said.
by Alan Jacques
alan@limerickpost.ie