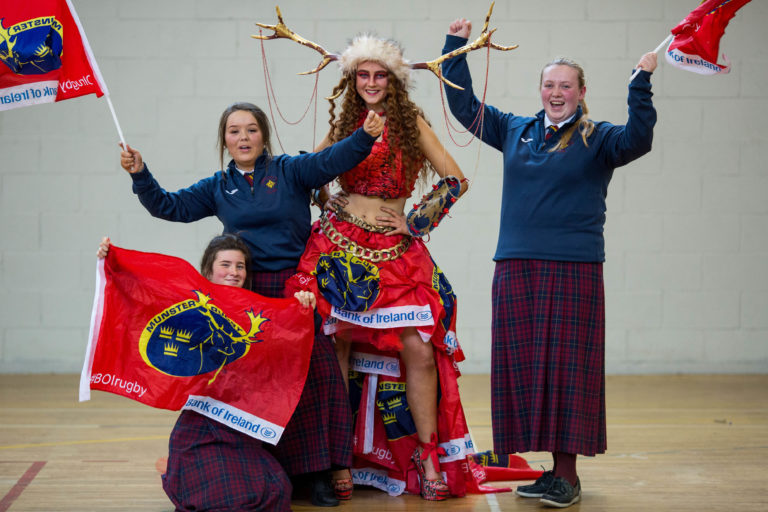 A Limerick school was amongst the winners at the eighth annual Bank of Ireland Junk Kouture final which took place at the 3Arena. The Bank of Ireland Enterprise Award was awarded to Stand Up and Fight from Coláiste Nano Nagle, Limerick.
Their design is a tribute to Munster Rugby and the late Anthony Foley, which they created from cans, plastic bottles and match programmes. The team consisted of Demi McNally, Rebecca Keane, Emily Griffin and model Megan O'Mahoney.
Moo was crowned the winner . On the evening 86 student models performed in front of an audience of 6,500 friends and family in another sold out incredible all Ireland final.
Moo from Our Lady's Bower, Athlone was modelled by Isabelle Clarke and designed by Mary Brody with the use of 300 milk cartons which were cut into shapes and connected together by over 30,000 O rings. Moo will be returning home to Athlone, Westmeath with the prestigious Bank of Ireland Junk Kouture trophy and €2,500 cash for their school. The team will each receive €500 cash and an iPad mini. Class will also be Cannes-celled for the five regional winning teams as they jet off with Bank of Ireland to the Cannes International Film Festival to walk the red carpet and showcase their incredible deigns to the global paparazzi this summer.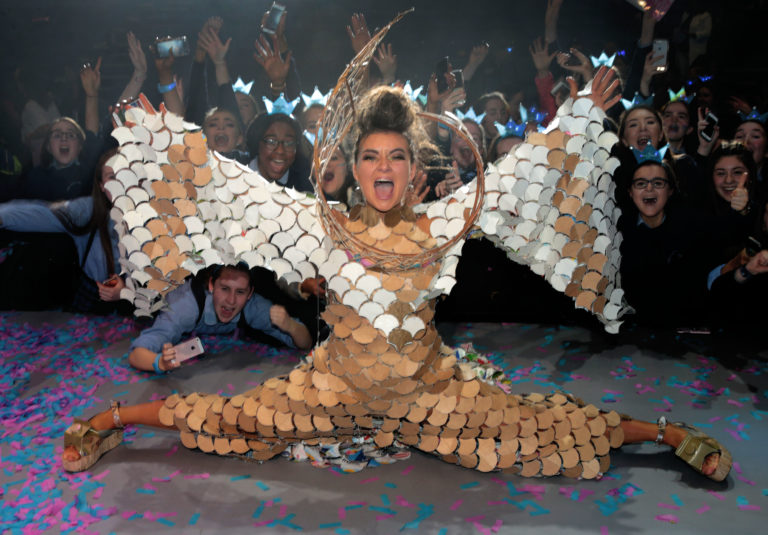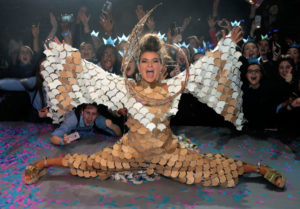 The judging panel was made up of X Factor and Ireland's Got Talent judge Louis Walsh, style guru Pippa O'Connor,fashion educators and experts Tracey Fahey and Jane Leavey, alongside  previous winner and LSAD graduate Stephen McLaughlin, who had the difficult and unenviable task of choosing the overall winners.
The young budding designers have been working tirelessly on their extraordinary designs since the start of the school year. They were tasked with creating haute couture outfits from recycled materials and junk. Each of the 86 finalists strutted the catwalk to thundering applause and screams from a capacity audience who were also treated to a performance by pop sensation and winner of Dancing with the Stars 2018 Jake Carter, 4 piece Indie/Pop outfit from Mullingar Fallen Lights and dance troupe XOD.
Laura Lynch, Head of Customer Propositions at Bank of Ireland said "Bank of Ireland Junk Kouture has supported thousands of students over the years giving them a head start by teaching valuable skills such as teamwork, innovation and the opportunity to inspire each other throughout the competition. Every year we get to the grand final and are blown away once again with the creative talent in our schools. It's no surprise that Bank of Ireland Junk Kouture has become a launch pad for a number of successful careers in architecture, fashion design, fine arts, teaching and entertainment."
Troy Amour, Co-Founder of Bank of Ireland Junk Kouture concluded "It's even better than last year, I cannot believe the incredible display of young Irish design talent. Thanks to our tireless partners bank of Ireland  encouraging their partner schools to take part This year we had to add a fifth regional final (Dublin) in order to cope with this year's jump in applicants from 1,300 to 1,533. The level of competition and standard of creativity keeps growing and we're very excited to see what else is to come"
More local news here.