The harvesting of up to 1,000 silage bales began today at Shannon Airport in a fodder crisis intervention that IFA President Joe Healy described as a "godsend".
Contractors rolled onto the 400 acre Shannon Airport site shortly after 10a.m. to begin three days of harvesting that will see in the region of 1,000 bales delivered to farmers across western counties in crisis due to fodder shortages arising from one of the hardest winters in living memory.
The first loads began to depart the airport on articulated lorries from midday to a number of regional locations for distribution, with some more locally based farmers arriving directly at the airport to collect bales for their own and neighbours' animals.
Speaking from Shannon, IFA President Joe Healy said that the combined effort of the airport, IFA and farmers was a reassuring statement that, at the worst of times, the spirit of the 'Meitheal' still triumphs in rural Ireland.
"It's great. This puts farmers into good form, when you see the sunshine shining and see the mower working and the baler working and the bales stacked up here because farmers have just endured the worst winter on record.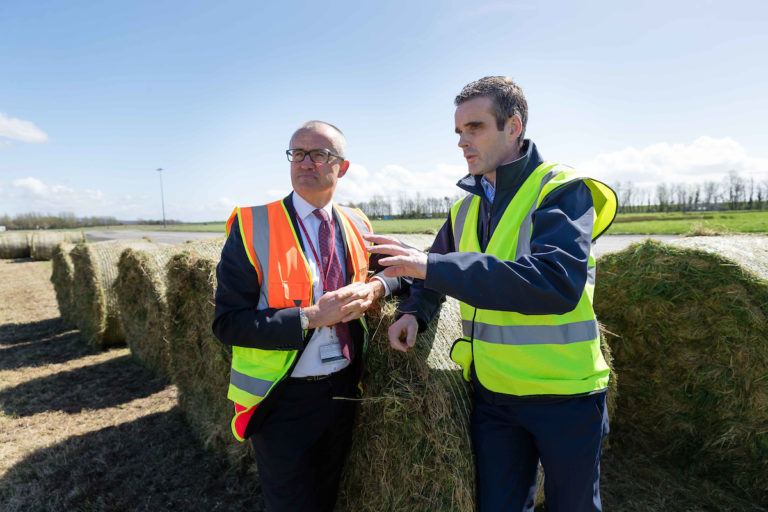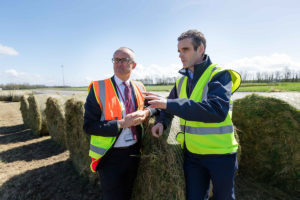 "Those bales are a godsend and a life saver; the difference between farmers going to bed feeling very stressed and farmers going to be happy knowing that their animals have enough for tonight and tomorrow and next week. Normally it's farmers helping farmers but for the likes of Shannon to come in and offer this, it shows the goodwill of Shannon Airport towards the farming community."
Shannon Airport's Director of Operations Niall Maloney said that having opened up the airfield to the local farming community during the fodder crisis of 2013, the airport regretted that farmers were faced with another challenge of this magnitude so soon. But, he stressed, they hadn't to think twice about responding.
"We were approached by the local farming community to say there is a crisis, which we're all aware of, and could we help. There's only one answer you can give and that is 'absolutely yes."
Among the farmers who came to collect bales directly from the airport was Joe O'Connell from Parteen, Co. Clare and speaking from the airfield he said:  "This is important because there are people with a lot of damp land around us. It will just carry them over, until we get a fine week and it will ok again. My son is milking cows and I have sucklers.  We had to put in the cows by night since last September and they've been in since. We had a lot of extra fodder but, with the long winter, we've ran out now and it has cost us a lot of money with feed and meal.
"I've been getting calls this morning about this and will be bringing this load back for my own and neighbours' farms.  There's great credit due to Shannon Airport and the IFA to put all this together to help out the local farmers." Mr. O' Connell concluded.
More local news here.