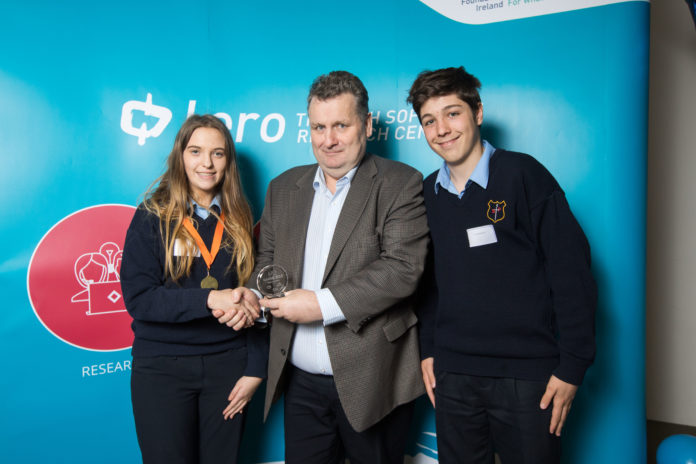 Scoil Pól in Kilfinane scooped two top prizes at the National Scratch Coding Competition.
The competition was held in the Kemmy Business School, at the University of Limerick, last Wednesday April 25th as part of Tech Week 2018.  The winners were selected from over 500 entries nationwide and judged to be the best in their respective categories. Niamh Kennedy and Dani Sabadell Marib took home the top prize in the Best Animation category for their project 'Behind the Bully' and Dewi Goldenberg won in the fourth to sixth year category for her entry 'Clean up our streets'.
Scratch is a visual programming language that makes it easy for young people to create their own interactive stories, animations, games, music, and art – and share their creations on the web.  Scratch allows students to develop creative and critical thinking, problem-solving and communication skills as they work collaboratively or individually on Scratch projects.
In operation since 2010, the National Scratch Competition has established itself among both teachers and students as a leading platform and showcase for Ireland's aspiring digital creators. The competition is run by the ICS Foundation, the social enterprise arm of the Irish Computer Society and supported by Lero, the Irish Software Research Centre.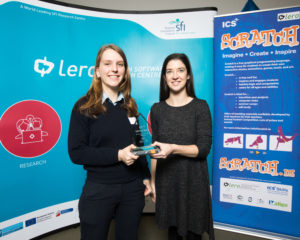 Tech Week provides hands-on opportunities to learn about how computing and related technology are shaping every area of life. The aim is to stimulate thinking around future opportunities for study and careers in technology, through learning in the wider areas of science, technology, engineering and maths (STEM) subjects.
Jim Friars, CEO, Irish Computer Society said, "I want to congratulate all of the students who participated in the final. All of the judges were impressed with the quality and effort that went into each entry."
Clare McInerney, Lero said, "Congratulations to everyone involved in the competition, the standard each year just gets better and better. This event is unlike any in the country and exposes students of all ages and levels to coding."
Tech Week is supported by SFI through their Discover programme. You can learn all about Tech Week 2017 by visitingwww.techweek.ie,  face book.com/techweekirl and by following @TechWeekIRL on Twitter.
More local news here.