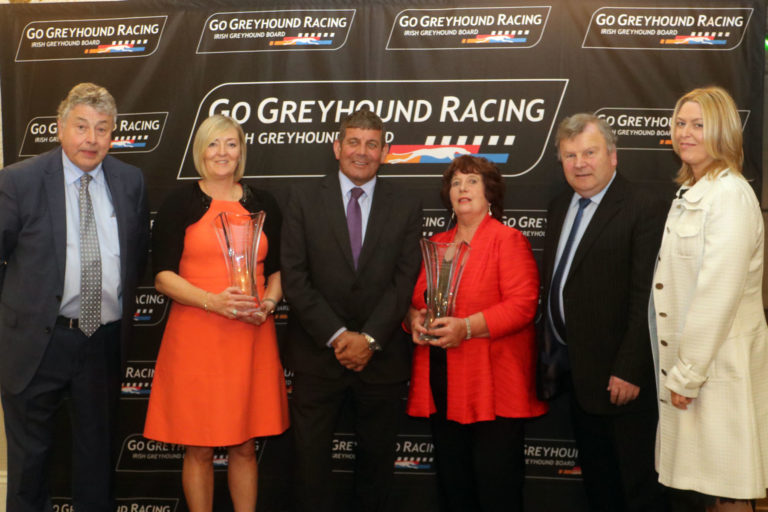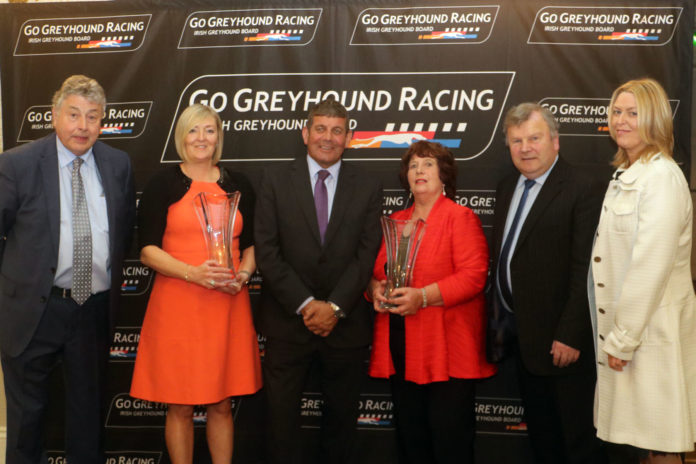 The National Greyhound Racing Awards were held on Sunday 29 April in the Killashee Hotel in Co. Kildare with Limerick native Alma Carroll receiving a special greyhound welfare award for her support of the Irish Retired Greyhound Trust (IRGT).
The event was kindly sponsored by Galway Crystal in its eleventh consecutive year. The awards were presented by Minister at the Department of Agriculture, Food and the Marine Andrew Doyle TD and the Irish Greyhound Board before a packed room of industry peers.
The Carroll family, led by Alma's late father John, were among the first to champion rehoming and prior to the establishment of the IRGT would have arranged collection of greyhounds and rehoming privately. Alma would carry out round-trips to Europe, in all weather conditions, carrying greyhounds to their new homes on the continent and then on the return picking up new recruits. After many years of 'hands-on' work preparing and then transporting greyhounds to new homes across Europe, Alma was invited to sit on the IRGT committee, where her knowledge and experience is invaluable.
Phil Meaney, Chairman of the IGB commented "I wish to congratulate all finalists and winners for their achievements. The high standard of quality across all categories is evidence of the commitment and passion that exists within the Irish Greyhound sector. I wish to thank Minister Andrew Doyle TD for presenting the awards and for the continued support of Government for the greyhound sector."
A report by Economist Jim Power, The Economic and Financial Significance of the Irish Greyhound Industry calculates there are 5,058 full and part-time jobs within the sector with a further 7,313 greyhound owners deriving economic benefit. The national industry contributes €300 million in additional economic activity. Of the 16 stadia within Ireland, 15 are located outside Dublin which the report states, highlights the contribution to rural communities in additional jobs and spending. The PAYE/PRSI contribution per annum is estimated at €12.7 million.
More local news here.