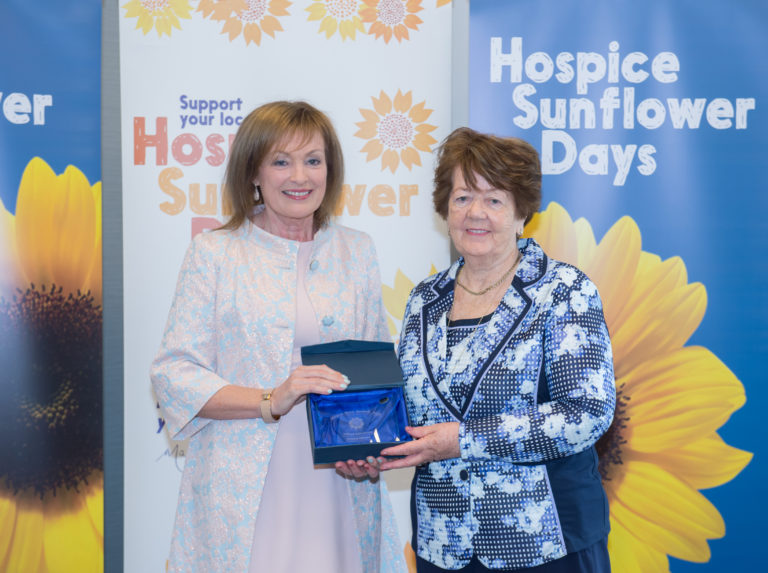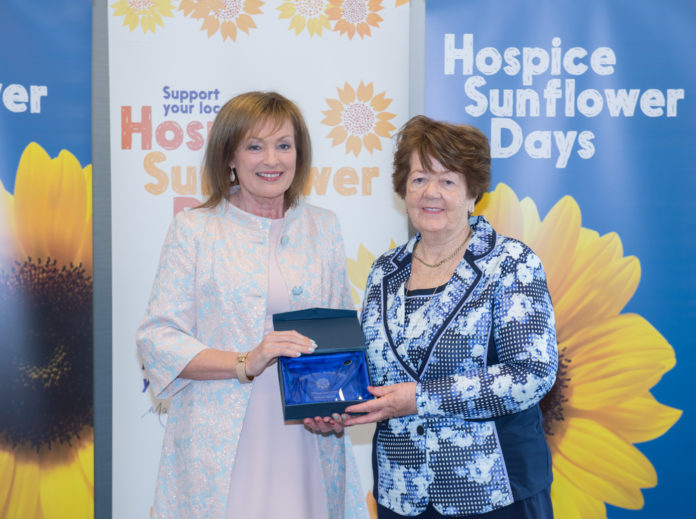 Dererca Devane, a Limerick woman who volunteers with her local hospice, Milford Care Centre is just one of the 'Hospice Heroes' taking to the streets for Support Your Local Hospice's national fundraising event – Hospice Sunflower Days – which will take place on Friday, 8th and Saturday, 9th of June.
With thousands of patients and their loved ones using hospice and homecare services in Ireland every year, every euro raised by Hospice Sunflower Days will be used locally to support the growing number of people using the services.
Dererca was among 18 'Hospice Heroes' honoured on Tuesday, at a special ceremony in St. Francis Hospice, Blanchardstown. Dererca has been nominated for her work with the hospice for an outstanding 30 years. During this time, Dererca has been instrumental in raising vital funds to ensure the continued running of Milford Hospice. She plays an integral part of the hospice's Sunflower Days campaign amongst other fundraising activities. With her vivacious and warming personality, sensitivity and empathy, she brings joy and solice to all around her.
Hosting the ceremony, RTÉ broadcaster, Mary Kennedy commended the volunteers and called on the public to support Hospice Sunflower Days 2018.
Ms Kennedy said: "There is tremendous goodwill by people in Ireland towards their local hospices and once again, I am encouraging the public to show their support for Hospice Sunflower Days next month. The care and support afforded to families in need is vitally important. By buying a sunflower from one of the many volunteers, you are helping to bring comfort and dignity to people at the end-of-life."
"You could even go one step further – join the ranks of the Hospice Heroes and volunteer for Hospice Sunflower Days 2018 if you have a few hours to spare. I am honoured to meet the Hospice Heroes today – a group of incredibly inspiring people – who have made a big impact on the lives of patients and their families."
Now in its 28th year, the funds raised will directly support hospices and homecare services to buy crucial equipment, hire specially trained palliative nurses, refurbish facilities and gardens, and provide high-quality home and in-patient care. Hospice care is provided free of charge to people with terminal and life-limiting conditions.
Commenting today, Pat Quinlan, Chair of the Voluntary Hospice Groups said, "In Ireland, the population of those over the age of 65 is set to triple in the next three decades. With that, demand for hospice and homecare services is set to increase.
"The nature of hospice care means that we must be in a position to respond in an appropriate and timely manner at all times. Hospices across the country are more reliant now than ever on the generosity and goodwill or our wonderful supporters and volunteers." Mr. Quinlan concluded.
More local news here.