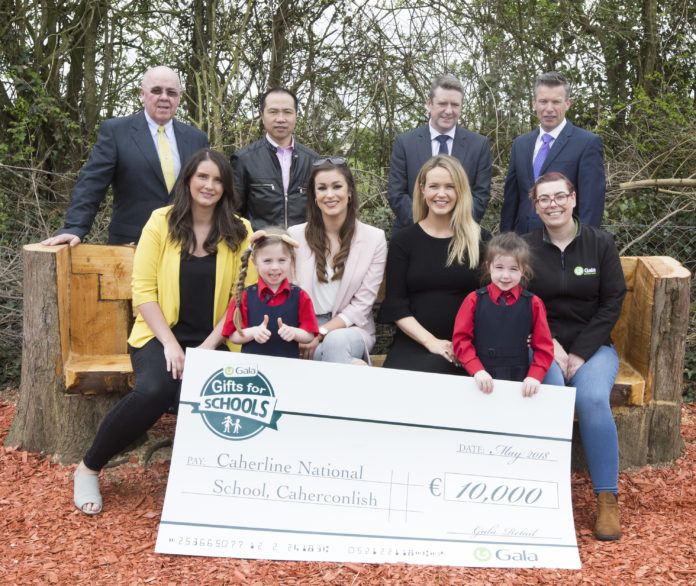 As part if its 20th anniversary celebrations, Gala Retail, visited Caherline National School in Caherconlish Limerick on Friday, to donate a huge €10,000 to the school as part of its Gala Gifts for Schools competition!
Caherline National School was named as the winner in the Gala Gifts for Schools
competition, following the school submitting a 30 seconds video on how they would spend a
'Gala Gift' at the school to improve the education and school days of their pupils.
Hundreds of schools from across Ireland entered the competition, and a judging panel,
comprising of actress, Aoibhín Garrihy; Editor of Primary Times, Marie O'Reilly; and Gala
Retail's CEO, Gary Desmond, deemed Caherline National School to have one of the top
videos on the day.
Sign up for the weekly Limerick Post newsletter
Actress Aoibhín Garrihy surprised the school by appearing at a special assembly in which she
gifted the school, on behalf of Gala Retail, a huge €10,000 which the school pledged to
spend on an ASD classroom to cater for the needs of children with Autism who attend the
school.
Teacher at Caherline National School, Orlagh Eichholz, explains: "When I first heard about
the Gala Gifts for Schools competition, I was determined that our pupils and I would be as
creative as possible and create a video that showcased our school and our wonderful
pupils. We wanted to show how a 'Gala Gift' could make a huge difference to Caherline NS
and in particular develop our facilities for our new class for pupils with Autism. We are
fundraising to buy land at the moment to build a classroom for students with Autism, a
mainstream classroom, car park and garden area, so this amazing gift from Gala of
€10,000 couldn't have come at a better time."
Known for community-focused convenience retailing, Gala Retail pledged to donate €20,000
to Primary Schools to mark its milestone 20 th year and give back to the communities in
which its stores serve.
Aoibhín Garrihy was joined by Gala's Marketing Manager, Tony Cluskey, and local Gala
retailers at the prize presentation at Caherline National School.
Mr Cluskey adds: "The creativity and innovation shown in the videos that we received from
Primary Schools across Ireland was outstanding. It was extremely hard to judge the
competition based on the calibre of entries, however the video from Caherline National
School really stood out thanks to its creativity, innovation, how a Gala cash gift could
really benefit the school, and of course, its pupils being the stars of the show in the video!"
2018 is a major milestone year for Gala Retail and throughout the year, the symbol group
will be giving back to its communities to thank customers for their loyal and ongoing
custom. Follow Gala Retail on Facebook to keep up-to- date on forthcoming promotions and
competitions.
More about education here.