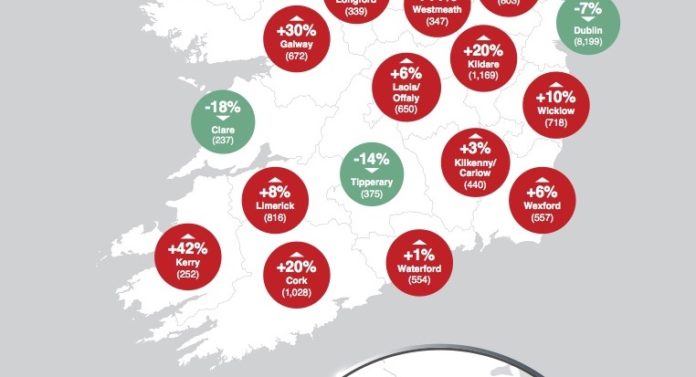 Limerick experienced a significant rise in the rate of burglaries in 2017 with an 8% increase.
According to PhoneWatch, Ireland's leading provider of home alarm systems, who today launched their Annual Burglary Report, while there was a 3% increase in the number of burglaries nationally there are significant regional variations which are a cause for concern.
In total there were 816 burglaries in Limerick last year. This equates to a burglary rate of 12 per 1,000 households, the same as the national average. The busiest Garda stations in the county were Henry Street (224), Roxboro (160) and Mayorstone Park (88), while the quietest was Athea 3.
Sign up for the weekly Limerick Post newsletter
Speaking about the figures PhoneWatch Managing Director, Eoin Dunne said "Burglary remains all too common in Ireland and it is concerning that so many counties, including Limerick, experienced significant increases last year.
"After several years of welcome falls any increase is burglary is a concern, but it is vital that efforts are taken to address the blackspots. This responsibility falls on all of us, homeowners must take proactive steps to protect their homes and neighbours should be vigilant for one another."
"A monitored alarm continues to be among the most effective ways to protect homes. In the last year, while the nationwide rate increased, there was a 19% fall in the number of serious incidents involving PhoneWatch customers, a trend that has continued in recent years as our alarm technology and instant monitoring continue to act as a significant deterrent to potential burglars. The statistics show that a PhoneWatch home is a safer home and is four times less likely to be a victim of burglary.

"With the summer hopefully around the corner there are specific risks that can be avoided. Burglary thankfully remains a largely opportunistic crime, so homeowners can make their homes considerably safer by taking simple precautions and steps to make their homes less vulnerable. PhoneWatch research shows that almost 40% of burglars enter through the back of the house. This can often be as windows and doors are left open in warmer weather. Garden tools are also often used as implements to gain access to houses, while unlocked garages and sheds can prove easy targets."
PhoneWatch advice includes:
· Always lock windows and doors, and double check in the warmer weather as it may be less obvious.
· Do not leave garden equipment lying around, with ladders the most important to secure.
· Ensure garages and sheds are locked after use
· When away from home, ensure that post and bins are collected, these can be an easy sign that a home is unoccupied
· Use the spring and summer to ensure shrubs and trees are tidied, these can provide a helping hand in gaining access to upstairs windows
· While the evenings are getting brighter, it is still worth setting timer switches on lights to make your home appear occupied after dark.
· When on holidays, wait until you're home before posting those holiday snaps on social media, to avoid letting others know your home is empty.
More about crime and court here.