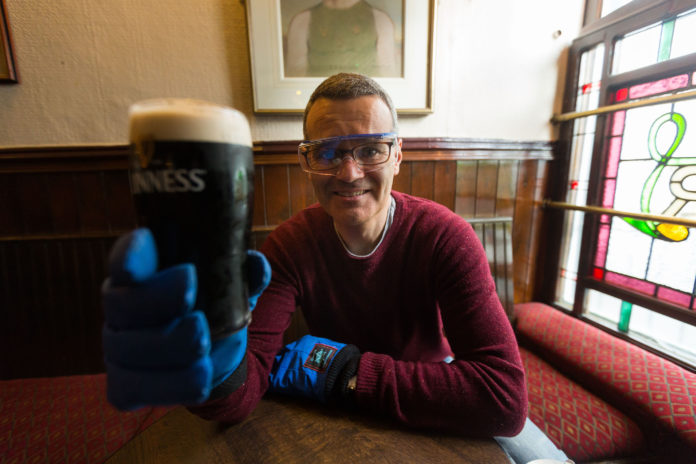 JJ Bowles played host to a well-attended 'Pint of Science' event on Tuesday, May 15, with speakers from
UL's Faculties of Science and Engineering as well as the
Kemmy
Business School
.
The fun and engaging evening of science-based discussion
, now a regular annual event, is the result of collaborations between a number o
f Science Foundation Ireland
national research centres including LERO, SSPC, MACSI and UL academic departments and research institutes (Faculty of Science and Engineering, and Bernal Institute) to en
courage such lively discourse.
Though hosted locally, this forms
as part of the wider
international
2018 Pint of Science Festival
.
The evening was expertly MC-
ed
by Sarah
Hudson, Chemical Sciences
, introduced the speakers and fielded questions from the enthusiastic audience, which gave the presenters the opportunity to bring their subject to life.
Speaking at the event, Sarah said, "This is a great opportunity for people to learn about the latest scientific developments directly from the scientists themselves, to then feel free to question them and also show the diverse research being carried out in the University of Limerick."
Dr
Peter Davern,
Chemical Sciences
/
SSPC
,
spoke engagingly about his recent poetry collection based on the periodic table of elements in his presentation on 'The Periodic Table of Poems – the Chemical Elements in Verse!' Even those with the rustiest of memories of Leaving Cert chemistry could relate to
Peter's
wry and insightful observations about the  elements.
His
poems were interspersed with exciting demonstration
s
including a sonic boom from burning pure
hydrogen, and distilling pure liquid oxygen out of the air!
Later, Michelle Ryan
,
Kemmy
Business School/L
ERO
,
led a lively conversation about cyber futures with her talk on 'Will you be held to ransom every time you start your car?
'
.
Oisin Kavanagh
,
Bernal Institute
,
meanwhile considered prospective developments for prescription-taking patients in his 'Medicines of the Futu
re'.
Ronan
Lordan
,
Biological Sciences
,
explored the facts and fictions linking cow's milk and heart problems in his talk on 'Dairy and Cardiovascular Disease: Do we really need to be concerned?'
,
Dr
Matteo
Lusi
,
Bernal Institute
,
shared some
of his cutting edge research on solid solutions in his talk: 'A crystalline solution to any problem'.
Speakers and punters alike enjoyed the refreshments provided by JJ Bowles staff and took advantage of the opportunity afforded by the break between talks to engage in spirited discussion of AI, chemistry, crystals, and data security, among many other topics. Some lucky attendees even went home with stylish 'Pint of Science' t-shirts!
Tuesday's 'Pint of Science' evening marks UL's
5th
year of involvement in the festival
, which
had
it's
first Limerick event
in
The Locke
Bar
in 2014
.