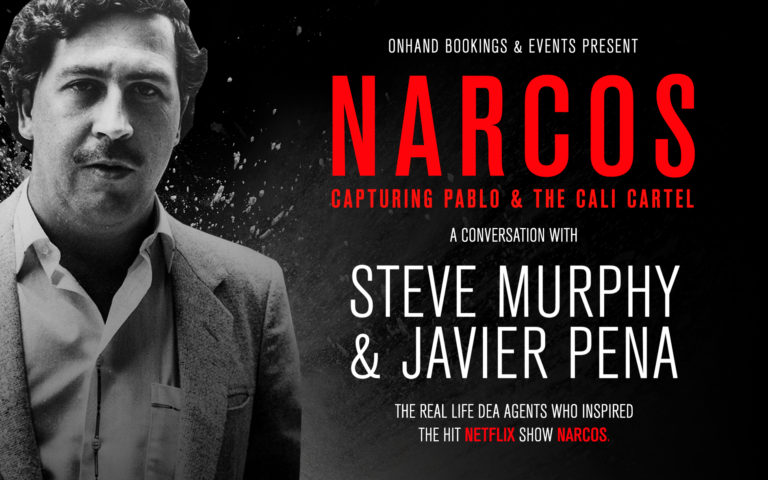 "This is about telling the truth. We will discuss the hard topics"
"THIS is about telling the truth. We will discuss the hard topics," explains Steve Murphy, talking about the upcoming show in Lime Tree Theatre featuring the two US DEA agents that were central to the taking down of Colombia's drug cartels in the 1990s.
Retired DEA agents Steve Murphy and Javier Pena were the inspiration for the first two seasons of hugely popular Netflix crime series 'Narcos' that followed the rise and fall of Colombia's infamous drug cartels and Pablo Escobar.
The ex-DEA agents provided consultancy for the series and in conversation with Limerick Post, Steve Murphy revealed they will bring new information on the role they played in bringing down the Medellin Cartel and its notorious leader, the 'King of Cocaine'.
While the TV show and the quality of the storytelling and acting could possibly illicit sympathy for the cartel leaders, Murphy and Pena will reveal the real horror that these gangsters and their terrorist methods exerted over Colombia while they reigned over the drug trade.
Steve Murphy never wanted to be anything but a police officer. "I was always interested in being a cop in a big city."
While in his first station in West Virginia he developed an interest in narcotics. In 1987 he became a Federal DEA Agent based in Miami before being posted to Colombia with Agent Javier Pena to work with local law enforcement to combat the flow of cocaine flooding into the US.
"It was extremely dangerous – it was the most dangerous thing I have ever done." remembers Steve.
"We worked with an elite group of Colombian police officers. We entrusted our lives every day with these guys. They were most actively involved in the manhunt for Pablo Escobar. They were placed in many more dangers than we were.
"When a fire-fight started they wouldn't run off and leave you – because of the trust we developed for each other. And they knew that Javier and I wouldn't run away either."
At the head of The Medellin Cartel was Pablo Escobar. He ruled the drug trade, made obscene amounts of money. He terrorised his enemies and was seen as a Robin Hood type character by those who benefited from his drug trade.
Javier Pena adds, "Honestly – Pablo was bigger than what we expected
"He had his own cartel, his own empire. The basis of all this was his hit squad. Either you worked for Pablo or you were part of the Cali Cartel. They hated each other!"
With the millions of dollars spent and the thousands of lives lost in Colombia and the US during this so-called war on drugs, did the DEA ever consider that it may have been more expedient to legalise the cocaine trade and control its distribution as done with alcohol and tobacco?
"I don't think that would have ever been an option," answers Steve.
"Why make it easier for people to kill themselves – why legalise illegal activity when thousands and thousands of people are being murdered?"
Javier agrees. "That thought never occurred to us. I just want to also emphasise that the cocaine was being sent by Pablo Escobar to the rest of the world. He was responsible for 80 per cent of the market.
"As a result of that you see all the violence, the wars, the Cali cartel especially, in South Florida at this time. People were killing each other over turf wars."
Steve and Javier provided consultancy for the series Narcos.
Series One followed the story as the police fought the Medellin Cartel. Series Two followed Pablo Escobar's downfall as the DEA agents and police closed in on the drug baron, finally killing him on a rooftop in Medellin City. Did Steve consider the series to be accurate portrayal of events. Did the series elicit sympathy for Pablo Escobar?
"Part of our deal is we will never glamorise Pablo Escobar. Some people will glamorise him. Some people say he is a Robin Hood. We dispel that myth.
"We love 'Narcos', like everyone else does. They made a great action series. It's professionally done. It's one of the best I've ever seen. But it is not all truth. That is why Javier and I have taken on this challenge to go around the world telling the true story.
"We don't want especially young people to think, 'Wow, that is what I want to do because that is a cool lifestyle!!'
"It is dangerous in the business – you can't get out. The only way to get out is when you get killed."
Did Season Two of 'Narcos' make the Pablo and major cartel players too sympathetic for the audience? Javier certainly thinks so.
"It was the professionalism of the actors. I was watching the series and when Escobar went to his father's ranch – that's Hollywood! We don't know if that really happened or not.
"I might catch myself feeling sorry for Pablo. And I thought, 'crap, I can't do that!'
"That is Pablo Escobar. That is how good an actor Wagner Moura was in playing Pablo Escobar.
"Wagner Moura is one of the nicest people you will ever meet. He is humble, quiet and intelligent. He makes you feel sorry for Pablo. That is one hell of an actor!!"
The conversation turns to the Colombia of today.
"Colombia has a model police, says Javier.
"Other countries are looking at them. Their technology has evolved and it is smart.
"In our shows we encourage people to please, visit Columbia. Tourism is rising right now, a lot of tours to
The Amazon and Coffee Country. It is a beautiful place and it is safe."
At the Lime Tree this week, the evening's discussion will shed light on the DEA agents' input into the Netflix series, where they will reveal information which does not feature in the show, followed by a Q&A session with the audience.
'NARCOS: Capturing Pablo and the Cali Cartel. An evening of conversation with Steve Murphy & Javier Pena' happens at Lime Tree Theatre this Monday May 21.
The fourth season of Narcos will be launched later this year. As cocaine is the central 'character' of the series, it changes location and goes back in time to the late 1970s and early 1980s to follow the story of Mexico's Guadalajara Cartel.