"It is our business to make sure that no one knows yours."
DGD Shredding was established in 1998 by Liam Garvey and Mark Doupe to provide secure destruction services for the Mid-West region. Over the past 20 years, the Company has grown substantially and now provides shredding and destruction services across the island of Ireland.
DGD has a proven history of delivering high quality and cost-effective services to both small and large-scale operations.
Under new GDPR legislation, DGD Shredding is now classified as a data processor working for various data controllers nationwide. As a data processor, a strong chain of custody is of the utmost importance. All the team is garda vetted, operating a modern secure fleet of vehicles with GPS tracking that can carry out onsite or offsite shredding requirements.
"Our 15,000 sq ft. Destruction centre, based in Raheen Business Park, is a newly commissioned plant utilising the latest and best available technology. Our industrial facility is designed to process large quantities in an efficient high-quality manner and the entire process is being monitored by a CCTV System.
"We operate under an ISO 9001 Quality Management System which incorporates EN 15713 Secure Destruction of Confidential Data Code of Practice, and ISO 14001 Environmental Management System. We are audited annually by NQA to ensure adherence to these standards." 
What should you consider when deciding on your data disposal options?
There is a significant risk to holding on to unnecessary personal data that is no longer required. When making decisions about how to dispose of end of life personal and commercially sensitive data, there is a lack of holistic information available about your options.
There is a growing trend for companies to use specialists' contractors to shred personal and commercially sensitive data for them. This is in part due to the quantity of material in question and convenience of using a contractor who can process the material securely and quickly. The provision of a destruction certificate helps substantiate the process and manage the liability of the data controller.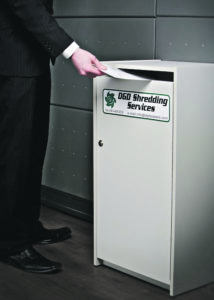 Some organisations use an in-house shredding machine, this can be time-consuming and expensive if you value your time. The benefit of using an external service provider means that you will receive a certificate of destruction which verifies the work carried out.
How can DGD Shredding help you with GDPR obligations?
Generally, the industry provides two types of services; Offsite services where the data is collected and removed from your premises for destruction or Onsite services where a shredding mobile unit provides destruction at your premises. Additional products such as a secure console/receptacle can be provided for the storage of material prior to being destroyed.
A certificate of destruction is issued upon destruction of all work carried out.
DGD Shredding appreciates the support it has received from all the organisations from the Mid-West Region and looks forward to helping you with your GDPR destruction obligations.
www.dgdshredding.ie, or call us on 1850419333.