Bord na Móna have today announced the shortlist for their 1st Annual Eco Rangers Awards and Kilbehenny NS and Monaleen NS are amongst the final 12. This year, the Bord na Móna Eco Rangers schools programme saw a record number of 660 schools sign up across the country, with over 50,000 children participating in the programme this year.
Commenting on the announcement, Sara Byrne, Brand Manager at Bord na Móna said 'I want to congratulate the 12 schools that make up the shortlist for next week's awards. Schools from Kildare, Offaly, Tipperary, Limerick, Clare, Longford, Roscommon, Leitrim and Cavan have been shortlisted for next weeks awards. The Eco Rangers programme is about encouraging schools to make a small change and to get back outside, reconnect with nature and to protect the habitats near them. The introduction of the awards this year mean that we can recognise the efforts of the schools and showcase the changes that are happening in the schools across the country."
Annette Patterson, Teacher, Monaleen NS, expressed her joy at making the shortlist, "Children are natural detectives. They love to explore. The children have taught the staff about Biodiversity. It is a healthy and happy way to learn. Being outdoors and experiencing the world hands on is true learning. Children and teachers identified all the habitats, and recorded the visits with photos and written reports. In some cases, reports can become filed away. Not this year! Our Eco Rangers award gave us an online presence and a blog on our biodiversity activities throughout the school year."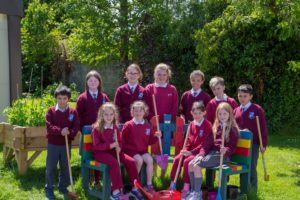 Eco Rangers aims to reconnect children with nature and teaches them the importance of protecting nature through a series of educational and fun elements. Teachers are provided with all the tools they need such as teachers' packs, lesson plans, classroom games and access to the Eco Rangers website with all the resources they need. This enables classes to embark on Eco Safaris, nature walks, where they can map out nature trails, look at and investigate flora and fauna, take photos or draw pictures and document what they see.
Eco Rangers aims at encouraging children to learn about different habitats and ecosystems and recognise the importance of protecting them to eventually become Guardians of the Land. While the emphasis is on schools to participate in Eco Rangers, the introduction of the awards has resulted in the Eco Rangers website being populates with over 140 Eco Safaris across the country which can be enjoyed outside school hours by children and parents and the wider communities around Ireland.
More about education here.