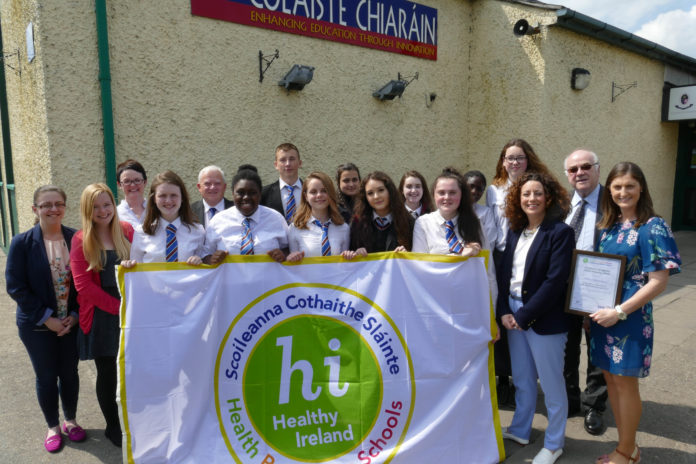 Coláiste Chiaráin became the latest school in the country to be presented with the Healthy Ireland -'Health Promoting Schools' Flag'. It is the first school in county limerick to receive this recognition.
The Healthy Ireland-Health Promoting Schools' (HPS) Flag' is presented by the HSE to schools as an acknowledgement of their work in improving the health of their school communities. The Healthy Ireland-Health Promoting Schools programme supports schools to focus on health and wellbeing and involves all members of the school community. Students, staff, parents and guardians are consulted to identify priority health areas. Schools are guided to address their priority area under the following evidence based categories: environment (social and physical) curriculum, policies and partnerships. In each school, a Healthy Ireland-Health Promoting Schools coordinator and Healthy Ireland-Health Promoting Schools team lead out on the progression of health and wellbeing and this work is supported by the school principal, board of management and wider school community.
European research has shown many benefits of this type of whole school approach to health.  Chief among these benefits are increased self-esteem, safer and cleaner school environments, lowered incidences of bullying, a positive approach to health issues, increased parent involvement and better student/teacher relationships to name a few.
Sign up for the weekly Limerick Post newsletter
In Coláiste Chiaráin some of the many health initiatives chosen to take on board in order to progress as a Healthy Ireland – Health Promoting School include promoting positive Mental Health and Physical health in healthy eating for the school community.
More about education here.