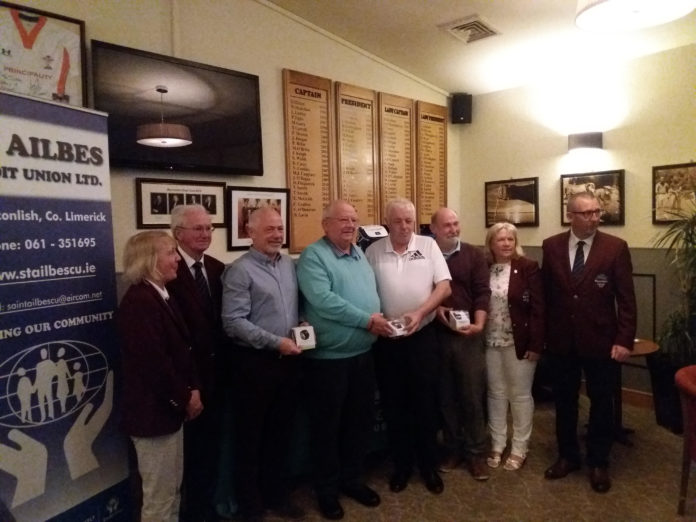 Adare Manor Golf Club
Mens Results
Sign up for the weekly Limerick Post newsletter
Competition: Rathkeale & Kenneally Trophies; Singles (18 hole S/F) – Saturday 26th / Sunday 27th May 2018.
Rathkeale Trophy (0 – 11 H'cap)
1st  – Michael A Noonan (11)   41 pts (B9)
2nd – Seamus Toomey (5)       41 pts
3rd  – Eddie Kiely (6)               39 pts
Kenneally Trophy (12 – 28 H'cap)
1st – Vincent O'Rourke (17)      44 pts
2nd – James Ryan (27)            42pts
3rd – Cathal Crowley (21)         40 pts
Men's Open Singles, Stableford 18 hole – 22nd May 2018
1st – Padraig Mann (10)           37pts (B9)
2nd – Connie Sheehy (18)        37pts
Gross – Kevin Cotter (6)           36pts
Ladies Results
Thursday 24/05/2018 – 18 hole s/f competition
1st Anne Murphy (23)  37pts.
2nd  Mary Fitzgerald  (18)  36pts.(b9)
3rd   Kate Jordan  (21)  36pts.
9 hole s/f comp
1st  Rose Fitzgerald  (27)  19pts
Ballykisteen GC
Ladies Golf News
Congratulations to our Junior Cup Team on  a huge win over Lahinch in Newcastle West on last Saturday, with two of the matches going down 19. The standard of golf was superb and Ballyk now look forward to meeting neighbours Tipperary Golf Club in the Munster quarter finals on 1st July on Dromoland. Squad – Mary T Real, Paula Carroll, Lauren Kelly, Caitlin Shippam, Majella Hallinan, Elaine Bermingham and Jane Cowhey and Manager Catherine Murphy.
Congrats also to Mairead Quirke on winning the 9H R&R Championship Club qualifier with 19pts, she will now go forward to represent Ballykisteen on  11 June in Tipperary for the area final.
Tuesday weekly 18H Stableford
1st Paula Carroll 39pts, 2nd Mairead Quirke 32pts & 3rd Jane Cowhey 31pts
Sunday weekly 18H Stableford
1st Lauren Kelly 41pts & 2nd Jill McCormack 34pts & 3rd Catherine English 29pts
The Bank Holiday weekend will be  a hive of golf at Ballykisteen GC as it's our Lady Captain Caroline Cussen's Day on Sunday 3rd June but throughout the weekend there are various competitions running for all club members.
The ladies fun starts on Friday evening with our traditional Pink Ball Scramble @ 6.30pm. On Sunday Lady Captain Caroline is running an Open Visitors (Ladies) competition (entry fee €20.00) so if you fancy a good round of golf and a great atmosphere next Sunday, then Ballykisteen is the place to be – for tee times and bookings please contact the pro-shop on 062 32117.
Ballyneety Golf Club
Men
Club Classic Winners
1st Noel Nash team 97 points – Tom Nash Maurice Hickey, Noel Nash.
2nd Ballyneety Mens club 96 points – Colin Tuite, Ger Kavnagh, Shane Garry.
3rd Ingenium team 94 points back 9 – Oliva Hayes, Eddy Coughlan, Allan Higgins.
4th place Mark Cosgrave Carpentry 94 points – Michael John Cosgrave, Connie Ryan, John Ryan (w).
Best Ladies Team Abael Products Ltd. – 85 points Yvonne Sheehan, Majella Commerford, Noreen Campbell.
Raffle for tailor made driver winner John English junior.
Stroller cup
1st Colum Godfrey 44 pts
2nd Johnny Fitzgerald 42 pts
3rd Frank Balfry 40 pts
Best Gross Eoghan O Neill (4) 30 pts
4th Kevin Hayes 38 pts back 99.
Open singles 14 /5/18.
1st John Kavanagh, Castletroy – 38 pts.
Seniors Champagne Scramble 15/5/18
John Malone, Donal O Brien, Eddy Kirby 59.7
2nd Jim Brown, John Nagle, Tom Carroll 54.5
3rd Connie Ryan, Seamus Walsh, Ciaran Hayes Eddy Coughlan 53.9
Juniors 29/5/18
Ian Hinchy 41 pts.
Limerick Golf Club
May Medal
Sponsored By O' Gorman Solicitors – Results 26th & 27th May 2018
1st          Richard Coveney (21)     64
2nd        Ciaran Vaughan (1)          66
Gross     Conor Kilroy (5)                 73
3rd         Brian Reynolds (6)           68
4th         Martin Fitzgerald (15)     68
5th         Derek Casey (10)              69
Rathbane Golf Club
Ladies Results
Lady Vice Captain Rita Barry's Prize
1st Mary Murphy
2nd Esther Greene
3rd Jude Byrne
Best Gross Lady Capt. Trish Costelloe
Mens Seniors
Thursday May 24th – 3 Man Rumble
Leonard Fitzgerald
Noel Tuite
Michael Ryan
Tues Singles
Joe Flanagan 35 pts
Club Singles 26th/27th
1st John Ger O'Neill 40pts
2nd David Crowe 35pts
3rd Mike Hehir 34pts
4th Jim Keane 33pts
Fixtures – Bank Holiday weekend
Club Singles Stableford.