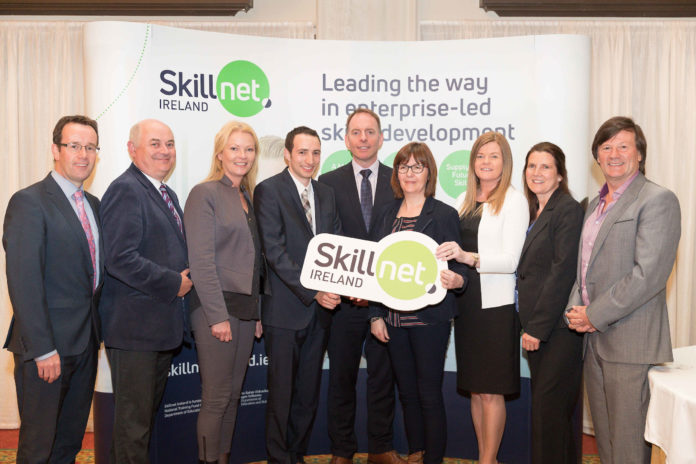 HIGH profile businesses in the Limerick/Shannon area shared their strategies for recruiting and retaining talent at a recent event hosted by Shannon Chamber in conjunction with Skillnet Ireland.
Representatives from Jaguar Land Rover, Zimmer Biomet, Element Six and Northern Trust spoke about the challenges they face in up-skilling and energising their workers while Lufthansa Technik chief executive Paul Shine called on more employers to invest in employee training.
"Over the last 19 years, we have been able to upgrade the employee skill sets necessary to maintain competitiveness within a rapidly changing industry. Investment in training is imperative to support the future development and growth of our aircraft maintenance business in Shannon as well as our international training operation," he added.
A recent report into Lifelong Learning participation among adults showed that at 7 per cent, Ireland was falling well behind other EU Member States and in order to meet the target set out in the National Skills Strategy, this needed to be doubled by 2025.
Shannon Chamber chief executive Helen Downes said it was never more important for employers and employees to focus on up-skilling.
"We are witnessing a cross-sectoral increase in the level of activity in this area among employers as they see the value in attracting and retaining talent," she explained.
Calling on employers to prioritise staff development to ensure future growth and competitiveness, Skillnet Ireland chief executive Paul Healy said that this was essential if the targets set out in the 2025 National Skills Strategy were to be met.
An additional €1 million in funding is now available to Skillnet member companies who want to take a more active approach to upskilling their employees. Several high-growth sectors have been identified where skills are in high demand, including ICT, software, life sciences, bio-pharma, animation and international financial services.
"The impact of AI, autonomous systems and robotics on jobs is impacting on the skills needed and how we work. Employers need to adapt to this ever-changing work environment, and I would strongly encourage them to take advantage of Skillnet Ireland subsidised training – and to prioritise staff development in every sector and region," Mr Healy concluded.
Read more business stories here.