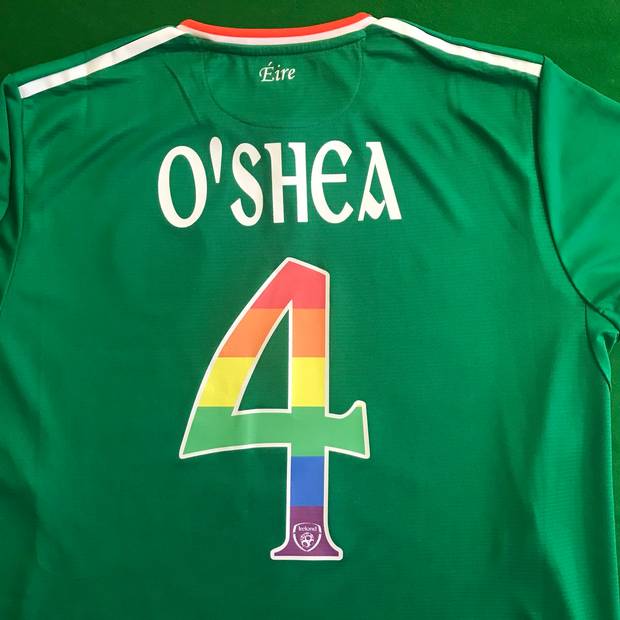 A new field of politics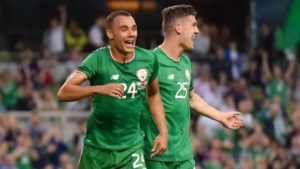 With no World Cup to look forward to, Ireland instead wound down their season with a couple of nondescript friendlies. The full debut, and subsequent scoring turn, of League of Ireland (LOI) star Graham Burke ensured that the victory over the USA will go down in the history books. But otherwise these were forgettable games, typical early-summer fare; players more concerned with holiday plans and avoiding injury than the result of two meaningless fixtures.
However the game against the States was remarkable for a few reasons. There was Burke's goal, the first from a LOI player since 1978. There was also the departure of John O'Shea, one of the classiest men, on and off the field, we've produced in a generation. And there was the rainbow-coloured numbers on the players' back, recognition from the FAI of the need to promote equality for LGBTQ in its sport, and that young gay footballers should have no qualms about pursuing careers in the game.
Because, remarkably, we have yet to see a Premier League footballer come out as gay. Yes, there was Thomas Hitzlsperger, who came out in 2014, but only after he'd retired. And there was also Justin Fashanu, whose decision to publicly reveal his sexuality led to a series of salacious tabloid headlines and his untimely death in 1997. But in terms of current players, nothing. So, under such circumstances, it makes sense to show solidarity with the gay community, to work towards righting the wrongs of the past and ensuring that no more suffer the fate of Fashanu.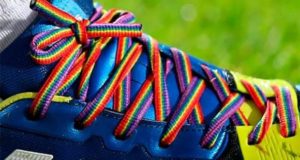 And yet, despite these good intentions, despite efforts to rebrand the sport as inclusive and welcoming for all, it feels like the FAI are doubling down on the safest of bets, adding their weight to a pre-approved political campaign when many other, less publicised issues, could use the support. Because, while you can never have too much awareness, too much solidarity, the days of sporting institutions discriminating against people due to their sexual preferences are dying. If the FAI, or the Premier League, really wanted to make a statement, to show how progressive they are, why didn't they run rainbow-coloured campaigns ten years ago, or even five, when it wasn't the done thing?
No, instead they waited until the tide had turned, until everyone was starting to understand how marginalised members of the LGBTQ community were, and then they piled on board, eager to please, to show how 'right-on' they are. True, the kits were part of UEFA's 'Equal Game' initiative, but the FAI, along with the IRFU and the GAA, are in a unique position, in that they have access to a huge captive audience several times a year. Why not use this platform to highlight our nation's homeless problem, or the fact that one in six Irish people live in poverty? Why not make an impact, something which might effect change, like Tommie Smith's Black Power salute, Ali's refusal to go to war?
Sadly, footballers are prohibited from thinking for themselves, a blanket ban on images or slogans on their undershirts brought in by the ever-twitchy FIFA in 2014. Pep Guardiola fell foul of these laws last season when, having repeatedly worn a yellow ribbon in support of Catalan independence, he was fined by the FA and warned not to wear it again. Guardiola's only sin was being a free-thinker. He was punished for showing support for something which runs deep within his core. While, at the same time, hundreds of Premier League players donned rainbow laces for a cause which, one could argue, many of them weren't particularly bothered about.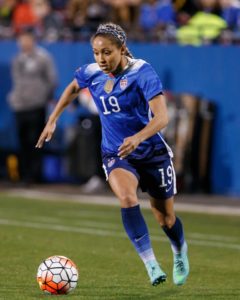 No one is saying that Ireland's rainbow themed kits weren't a good thing, but if the FAI, if UEFA and FIFA insist on mixing sport with politics then it should be done properly or not at all. Players and managers should be free to get behind whatever cause they wish, within reason, and, by the same token, be free to opt out of blanket statements they don't agree with – ala James McLean.
US women's footballer, Jaelene Hinkle didn't have that option. Having been called up to the national side, she refused to join up with the squad. Her reason? The team were due to wear rainbow-themed kits in their upcoming games and, as a devout Christian, Hinkle felt it wasn't her job to wear that jersey.
Hinkle has since been omitted from the squad and faces a gauntlet of hate every time she plays for her club side. A decision to force politics into sport potentially ruining her career.