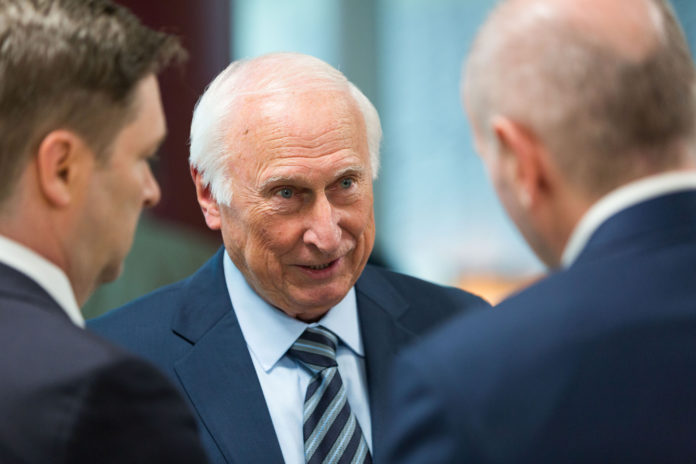 THE American Chamber of Commerce Ireland has honoured Analog Devices co-founder, Ray Stata, with its lifetime achievement award at a ceremony in Limerick.
Analog commenced operations in Limerick in 1976 has since expanded to employ 1,150 people at its main Irish hub in Limerick and more than 100 at its design facility in Cork.
Sign up for the weekly Limerick Post newsletter
The company has invested more than €120 million on capital spend alone in the past four years.
Analog is also a strong contributor nationally and to the wider region through its sponsorship of the BT Young Scientist and Technology Exhibition, its membership of the Limerick for Engineering Consortium and the Analog Devices Robotics Competition which promotes STEM among primary school students.
Mr. Stata was a cofounder of Analog Devices, Inc. (ADI) in 1965 and served as chief executive and chairman until 1996. He now serves as Chairman of the Board.
With current revenues of $5.5 billion, ADI is recognized for leadership in the design and manufacture of analog and digital signal processing semiconductors.
Mr. Stata has been active as an investor in and board member of more than 40 early stage technology based new ventures.
Chamber President Barry O'Sullivan said: "We stand on the shoulders of people like Ray Stata, whose visionary spirit has turned Ireland into the home of some of the most sophisticated technology in the world today. We pay tribute to his success, and to Analog for their longstanding commitment to Ireland and Irish technological development."
Stating that he was especially honoured to receive the award, Mr Stata added that it was particularly significant because the Irish operation played such a key role in Analog's success over the past 40 years.
" Not only has Ireland generated a continuous stream of world class innovative products but it has also been a source of extraordinary talent for the corporation worldwide. Our current chief executive, Vincent Roche, and many other key executives and technologist had their start here in Limerick," he explained.
Click here for more business news.