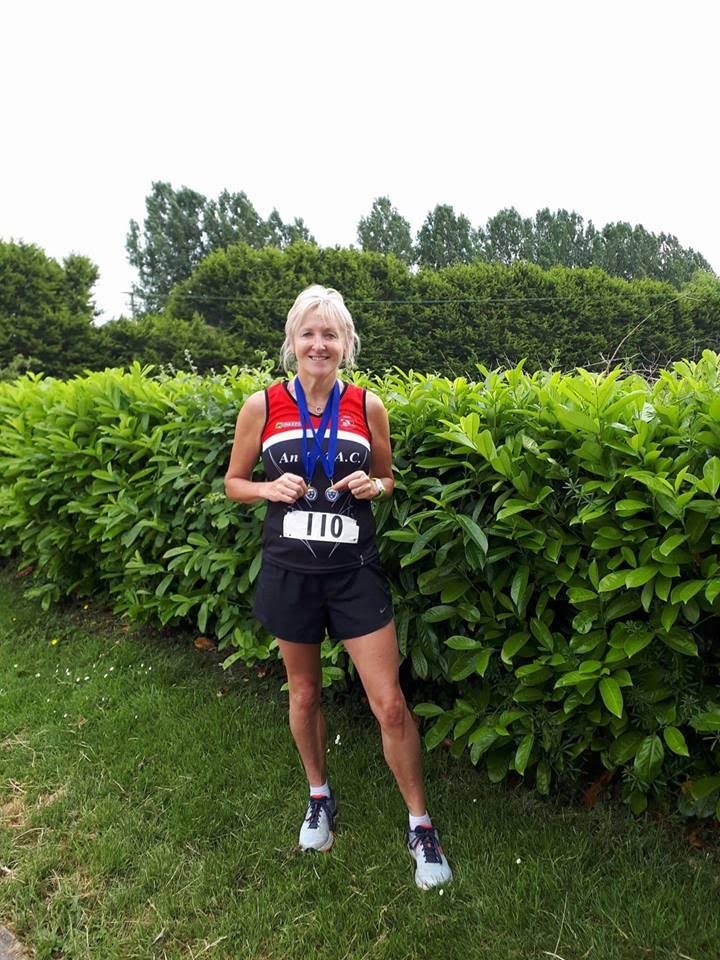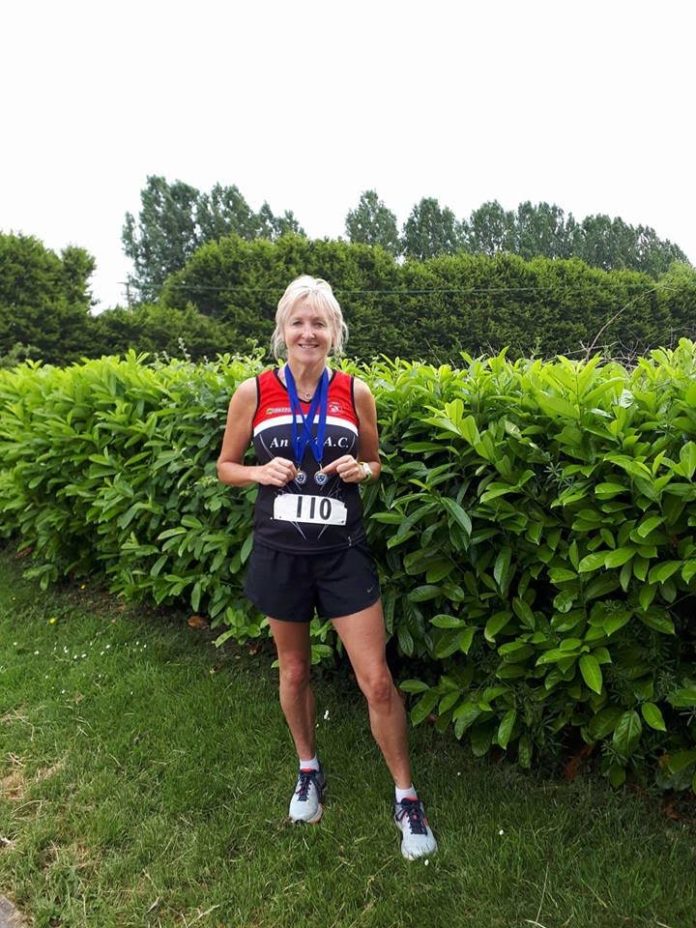 An Bru AC
Kilfinane AC held their 4 mile run Friday 8th of June, this run is part of the Ballyhoura Series, well done to all that ran and to Kilfinane AC for a very well run event.
Running from An Brú AC were John Hartnett 22:26, 2nd man home; Ross O'Donovan 24:24; James McMahon 29:56; Helen Hennessy 31:46; Noreen Kennedy 43:40. On Saturday 9th of June, Noreen Kennedy and Una Power ran the Doneraile 5k.
The Portumna Forest Marathon took place on Saturday 9th of June in Portumna Forest Park, Co. Galway. This was a brilliant event with people taking part in 100k, 50k, Marathon, Half marathon and 10k runs. This event was a 5k loop and how many loops you did depended on the distance of the race you entered. A very well run event on a very hot day. Well done to everyone involved.
Marathon – John O'Connell PB 3:29 and 6th man home; Tom Meany 3:57; Helen Meany with injury 5:57
Half Marathon – Kieran Moloney 1:42; Patricia Wade 2:03; Cyril Power 2:03; Derval Kenny 2:16 Thanks to Helen Hennessy, Michael and Senan Kenny for the support and well done everyone!
Well done to Mike Carmody and Gary Egan and Helen Hartigan who travelled to  Castleisland, Co. Kerry to compete in the Munster Masters on Sunday 10th of June. Mike was Second Senior in the 5k and Gary was 1st in over 40 in the 3k. Helen won gold in her age category for 200m and 400m. Brilliant running Helen!
Ballyhoura Active
On Friday night we were in Kilfinane for the 5th race in the series. In spite of the forecast the thunder passed us by and we only got a light shower as the race headed off from the start.
Declan Moore Bilboa AC proved too strong for the field on the night and in spite of not being not pushed was just outside the course record.
John Hartnett, An Bru AC was 2nd with PJ Carey of Kilmallock AC 3rd. The Ladies winner on the night was Brigita Lukste from North Cork AC followed by her club mate Ursula Bluett and third lady was Laura Armstrong Dundrum AC.
The race was a great success and Kilfinane AC did everything to make it great on the night as they had everything covered.
So we are on the road again and next Friday night, in Bilboa, just outside Cappamore, Co Limerick for the 6th race in this year's series.
Bilboa AC have been running this race for a number of years and the National 10 km championships was held here a few years ago.
Now known as the Gerry Mullane 10 km this is the longest race in our series this year and the shortest as they have a 5km as well, which is great for any beginners and couch to 5km runners.
The race starts at 8pm which gives you a great chance to get there if you are coming from work and as Cappamore is only 14 miles from Limerick Bilboa AC is only 2 miles out from there.
Bilboa AC have their own club house and the both races finish there and there is loads of parking. So if you want a good quality 5k/10k this Friday night then Bilboa is the place to be.
For further details, check out the Ballyhoura Active website. See you on the 15th of June in Bilboa, registration from 6pm, race starts at 8pm.
Mooreabbey Milers
Taking a break from the studies before the Leaving Cert started was Björn Downes. On Friday 1st June Björn took to the start line of the Dan Byrne memorial 5k in Doneraile Park. This was organised by and hosted by Mallow AC. Björn ran an excellent race crossing the finish line in a quality 4th place.
Back home on Irish soil the O' Donoghue family reflect on the weekend that was in the masters world mountain running championship in Zeleniki, Slovenia. On race day from early morning we knew it was going to be a scorcher with it 21° at 7.30am by the time the race started at 11.00am we were tipping the scales at 30°.
Willie's 7.8km race started in the village of Podlonk. The course it's self was a complete uphill battle with a climbing altitude of over 900 meters and with many of the competitors having to walk sections.
The last 2kms to Ratitovec summit were pretty unforgiving where you could be forgiven for thinking that we were rock climbing not running. This area by far was the hardest section and most technical with an extremely steep incline, tree roots, steps and large bolders.
Willie finished in 1.01 in 30th position leading home the Irish team of Michael Gygax and David Bell. Unfortunately we continue to seek a medal but it was most certainly an extraordinary experience.
At 8pm on Friday 8th of June one hundred and nine runners came to the start line of the Kilfinane 4 mile. The thunder rolled and the rain came down but that didn't deter or dampen the spirits of this bunch, out in the purple and white that night was Willie O'Donoghue, Gerard Hanley, Patrick Hartigan, Michelle Moroney and Patricia Ryan.
The race began with a fast downhill start and finished with an uphill battle. Well done to all club members out on the night. Willie O'Donoghue finished 1st in his category and was 8th overall while Gerard Hanley was second in his.
The following day on the 9th of June saw the The Killoscully Half Marathon take place in the Silvermine mountains Co. Tipperary.
On a hot and humid day seven Mooreabbey Milers took to the start line of this 13.1 mile race across the Silvermine mountains.
First home for the club was Tom Blackburn taking a well-deserved podium 3rd place finish, followed by Robert Cunningham, Denis Ryan, Marie O'Shea, Damien Holian, Paddy Bourke and Mary Pyke.
To celebrate his birthday Liam O Donnell took part in the Dingle Adventure Race Sport last Saturday morning. The Dingle Adventure Race Sport took in a spectacular route around the western point of the Dingle Peninsula.
The Dingle Adventure Race Sport started with a short run to kayak, where Liam kayak 1km around Dingle Harbour. On his bike heading West passing Ventry and around the stunning Slea head, at Dunquin Liam cycle up the steep Mam Clasack, then Liam ran up the Mountain track to the summit of Mt Eagle and back.
He then cycled back to Dingle followed by a 1km run to the finish. Liam finished in a very impressive 5th place. Well done Liam.
To finish the weekend off in style club colours didn't matter as 7 runners came together to mark and take in the Galty Crossing.
From the Mooreabbey Milers was Tom Blackburn, Willie O'Donoghue, John Hayes and Paddy Bourke. The lads were also joined by a mysterious friend of Paddy's and two runners from Kilmallock AC Janusz and Krzysztof.
We at the club would like to congratulate Ewan Cunningham, Björn Downes and Patrick Holian who will be finishing up the Leaving and Junior cert exams in the coming days.
The Cahir Half Marathon is back for the 4th year in succession. This time it's on Saturday 7th of July, so you can make a weekend of it in the picturesque town of Cahir. AAI Permit granted. Register on https://www.njuko.net/cahir-half. €30 individual entry and €40 for relay team of two.
Juveniles train each Monday night at 7pm and each Thursday night at 6pm in the community field in Galbally. Juveniles aged 7 and upwards are welcome to attend but must be registered with the club for insurance reasons. Registration forms are available at training each night.
Adults train on Tuesday and Thursday nights at 7pm in the community field in Galbally. New members always welcome.
Adults also do hill/mountain and trail training, become a registered member and get the added benefit of being included if the club's whatsapp to keep up to date with training/races and events. Registration forms are available at training.