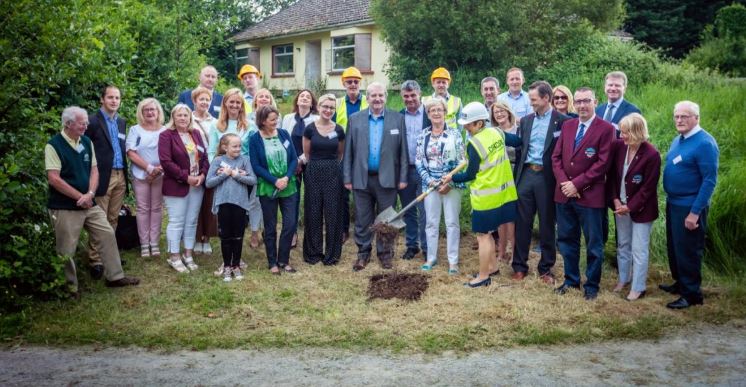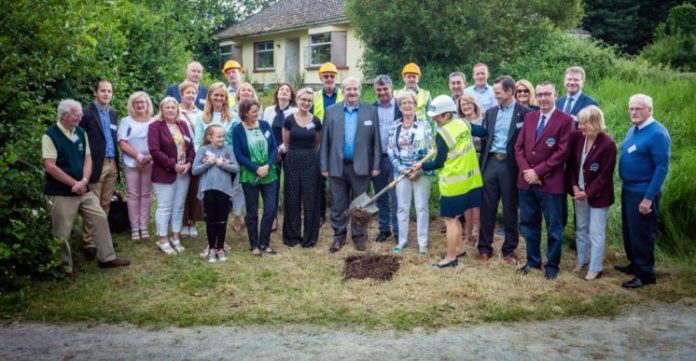 On June 12th 2018, the Ballyneety Community Development Association (BCDA), following the successful completion of their community walking track project, 'turned the sod' on two new community development projects.
In attendance were Cllr Marian Hurley Deputy Mayor and Councillors Richard O'Donoghue and Kevin Sheahan from the Municipal District of Adare-Rathkeale and Councillors Eddie Ryan and Brigid Teefy from the Municipal District of Cappamore-Kilmallock.
The two projects include a Community Innovation Unit and a 5-a-side all-weather sports pitch. Both projects are being funded primarily from the Leader funds programme, through Ballyhoura Development CLG, with a contribution of €213,048 to support both projects, supported by a local private donation.
The contractor appointed for the construction of the Community Innovation Unit, Corcon Construction, is due to commence work as soon as July 1. The project, which will involve the extension and refurbishment of an existing cottage on the grounds of Ballyneety Golf Club, will serve three distinct community groups: for general community centre access; for local business innovation and urban regeneration usage; as well as for volunteer usage.
The centre, which will be managed by BCDA, is accessible to all ages, genders and demographics. Secondly, the contractor appointed for the construction of the 5-a-side all-weather-pitch, Mc Sweeney Sports Surfaces, is due to commence work on July 18.
Both facilities will be available by year-end for all to use.
About BCDA
Ballyneety Community Development Association (BCDA) is focused on the promotion, development and operation of recreational and sporting facilities for the community and surrounding area of Ballyneety village. Specifically, the Association has been set up to achieve the development and implementation and operation of community facilities in line with the plan as approved by the Limerick City and County Council. This plan is being achieved through raising funds from private donations and via proceeds from public sources as appropriate for the community facilities envisaged.
The Ballyneety Community has come together with great enthusiasm to develop facilities that will support and create access for all. The first project, the community walking track, launched in 2017, with almost 200 members, has already been completed and serves as a great catalyst for new projects to follow. The walking track will alleviate a big safety concern for all the community, as it takes people off walking the dangerous R512 Ballyneety main road. For membership contact ballyneetywalkingtrack@gmail.com
Following receipt of the commitment from the local Ballyneety Golf Club trustees to use an available five acres of land for the development of a number of community related projects, together with the help of local architects and engineers, planning was received for several Ballyneety community projects, including a walking track, Community Innovation Unit and 5-a-side all-weather-pitch.
The primary aim of the projects is to provide a benefit to the community through advancement of community development, including rural or urban regeneration. Through the promotion of civic responsibility and voluntary participation from the members of BCDA a significant opportunity exists to deliver a community facility that will sustain generations.
Click here for more community news.