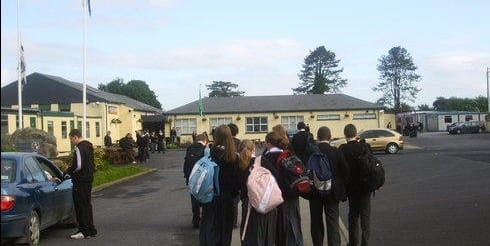 Limerick and Clare Education and Training Board has announced the appointment of a main contractor to construct the new Coláiste Chiaráin secondary school on a greenfield site at Croom.
Niall Collins, TD Spokesperson for Foreign Affairs & Trade, stated, "News that a contract has been awarded to MMD Contractors to build this long overdue new school building will come as a huge relief to pupils, parents, staff and the local community. Hopefully, the proposed completion date of October 2019 will be met without any further delays or surprises."
In welcoming today's announcement, Chief Executive, George O'Callaghan, said, "While there have been long delays and twists and turns in getting to this point, this a special day for the Coláiste Chiaráin school community.
"I would like to thank all those involved; staff, students and their parents, members of the Board of Management, local public representatives and the local community for their commitment and perseverance in ensuring that the project would be brought to fruition."
The main contractor will be MMD, a Cork-based construction company which has a wide range of experience and expertise in many types of construction projects, including schools.
The new school development on the 22acre (8.9 hectares) site at Skagh, Croom, consists of a two-storey building of almost 10,000m², incorporating over 60 teaching spaces, which will facilitate delivery of the widest-possible curriculum.
The development of pitches and external play areas on the site together with a full-sized PE Hall will provide for a diverse range of extra-curricular activities.  In addition, the inclusion as part of the project of a Special Education Needs Unit will ensure that the educational needs of the entire school community are met.
The value of the building project will be between €15 and €20 million and will greatly enhance the social and economic infrastructure of Croom and the surrounding area.
Limerick TD and Local Minister Patrick O'Donovan has said he is delighted with the news that a contractor has been appointed for the construction of the new secondary school in Croom and that work will commence shortly:
"Over the last few years I, together with my colleague Cllr Stephen Keary, have worked tirelessly with the Minister for Education, the Education and Training Board, parents representatives and others to try to secure this development for Croom.
"During that time there has been many disappointments and setbacks. However, we stuck at it because we wanted to be able to deliver a new state of the art school for Croom and today the hard work has paid off.
"It is just one of a number of new school projects that we have and are delivering since we entered Government. Across the county, in places like Doon, Abbeyfeale, Kilmallock and Newcastle West we have made substantial investments in our second level schools.
"Other secondary schools have also received funding for refurbishment and we have also provided significant resources for primary schools across Limerick including new schools, extensions and refurbishments."
Click here for more education news.