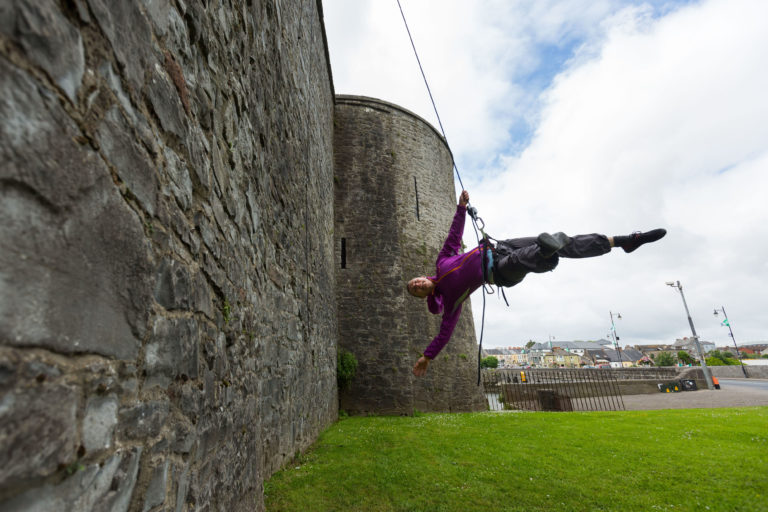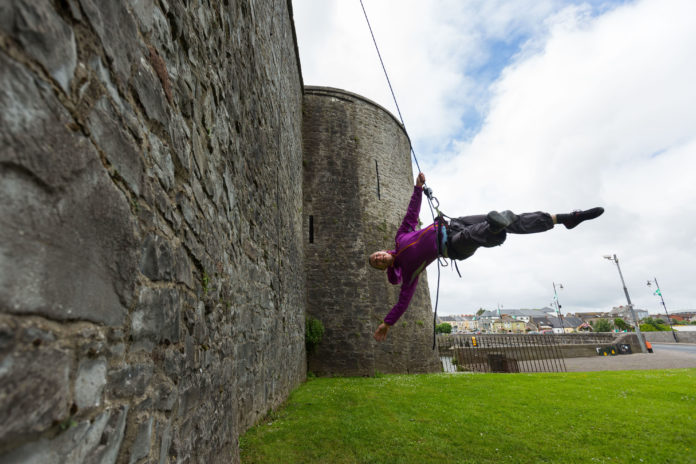 The worlds leading vertical dancers gathered in Limerick over the weekend to explore new places to create work and train a new generation of dancers on the iconic landscapes of the city.
Limerick based Fidget Feet Aerial Dance Theatre hosted Blank Canvas, a 5-day event where Irish and international dancers, creators, directors and choreographers carried out training, research, workshops, and exploration of new ideas and areas to make site-specific work, involving vertical dance.
This is the first meeting and training of it's kind in Ireland and is part of the Vertical Dance Forum project, an international network of 7 vertical dance companies who host 6 meetings in Europe and Canada, gathering dancers and professionals worldwide to train and explore collaborative approaches in making new work. This project is co-funded by Creative Europe programme of the European Union.
The Vertical Dance Forum are Fidget Feet Aerial Dance Theatre (Ireland), Il PostoDanza Verticale (Italy), Gravity & Levity (UK), Histeria Nova Vertical Dance(Croatia), Aeriosa (Canada), Retouramont (France) and Vertical Dance Kate Lawrence (Wales).
The forum made history on Limerick's most historic and iconic buildings by taking to the walls of King John's Castle and the Strand Hotel, training in vertical dance and bringing it to new outdoor performance spaces accessible for all to watch. The group also travelled to the Burren in Co. Clare to explore how a vertical dance piece could be created and performed in a natural landscape.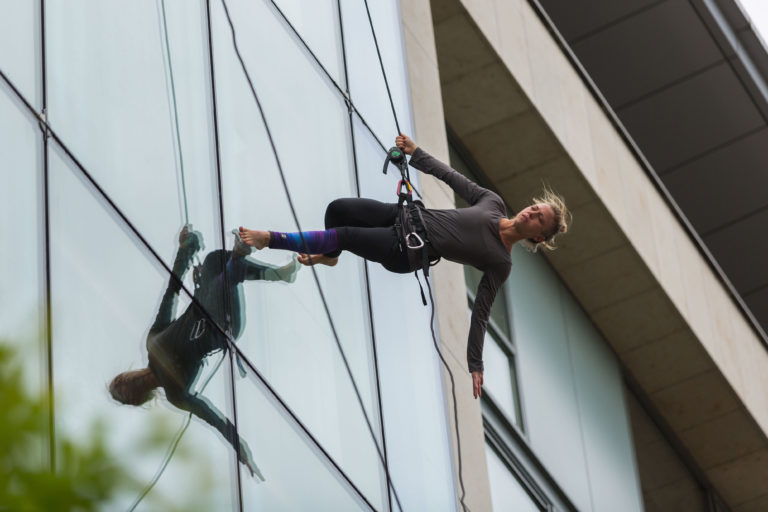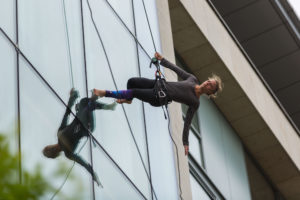 Executive Artistic Director of Fidget Feet Aerial Dance Theatre and Professional Development Manager of the Irish Aerial Creation Centre Chantal McCormick is one of the members of the forum and hosted the event in Ireland.
"The exciting thing about being an aerialist is that we can work outdoors and bring art to the people. They can watch as we are creating and making new work.
The idea behind the Vertical Dance Forum in Ireland is to change a public space into a stage to create a performance. When we perform on these buildings, we add something new, we tell a story about that building or site and then it changes that space for the audience."
French vertical dance company Retouramont created the network in 2014, and lead the project. The company's lead choreographer Fabrice Guillot is excited about the outcomes of the project.
"Each country hosts a meeting to research, workshops, and exploration methods and ideas. For me it is amazing to work on a site like King John's Castle that is so historic and then in contrast on a glass building wall at the Strand Hotel."
Over 3 years, the project will involve 6 international meetings with 300 vertical dancers, and 2,000 contributors including dance professionals, artistic directors, choreographers, academics and university researchers.
The next meeting will take place in September in Croatia with the final two events happening in England and France in 2019.
For more information on the project visit www.verticaldanceforum.com.
Read more Arts news stories here.