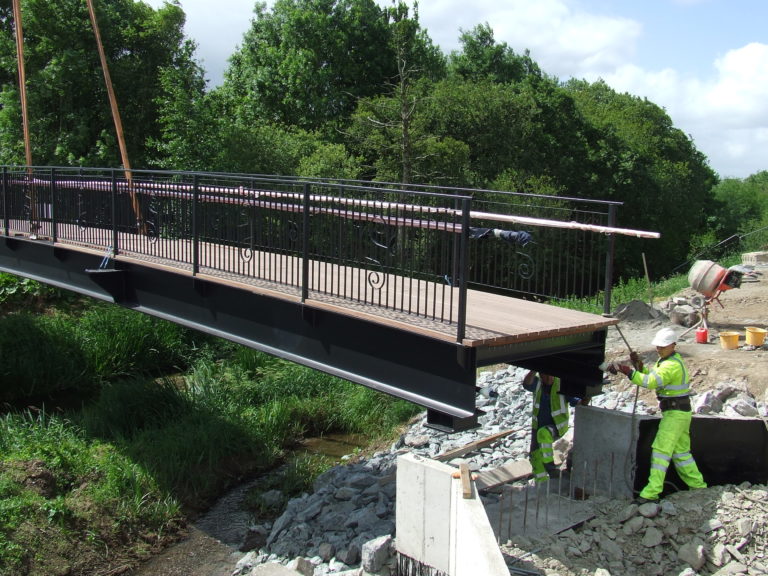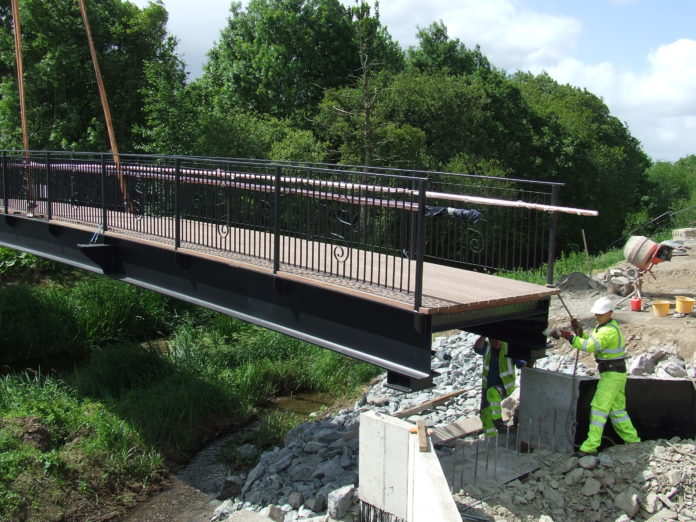 A new pedestrian bridge has been lifted in to place in Kilmallock in County Limerick and is a key element of the provision of a series of linked walks around the town.
Crews from Limerick City and County Council along with contractors Kenny Civil and Plant Limited lifted the bridge into place on Thursday 14 June 2018.
The new bridge is located immediately downstream of the existing road bridge on R512 Limerick/ Bruff road.
The bridge is 28 metres in length with a two-metre wide hardwood timber deck. The steelworks and decking were fabricated off site and transported to Kilmallock ahead of its installation.
The new bridge will provide a dedicated crossing point for pedestrians and a greatly improved link from the historic town of Kilmallock to the recently developed Riverside Walk.
The cost of the project is €247,000 and is co-financed by Hinterland Funding and Limerick City and Council Development Funds.
The bridge is expected to open to the public in mid-July 2018.  Limerick City and County Council will then carry out improvement works on the existing bridge which will provide some additional width for road traffic.
The new pedestrian bridge over the River Loobagh is a key component of plans to provide a series of linked walks in and around the historic town of Kilmallock.
Kilmallock is distinguished by its built heritage and, in particular, the town walls which are recognised as one of the most striking examples of medieval walls in Ireland. The walls are a prominent feature of the built heritage, due to their near-completeness, their function as property boundaries and their effectiveness in defining the medieval character.
The walled defences are preserved for almost the entire circuit of the town. They are particularly impressive along the west side where the walls survive for nearly 600m. Elsewhere they remain at ground level, or exist as low walls rebuilt by succeeding generations.
Within the walls there are several considerable monuments, including Blossom Gate, King's Castle, the 13th century Collegiate Church of St Peter and Paul, a late medieval stone mansion fronting the main street, as well as the remains of many stone buildings incorporated into the fabric of later structures. The Dominican Priory, established in 1291, is located outside the walls to the east of the River Loobagh.
Click
here
for more community news.