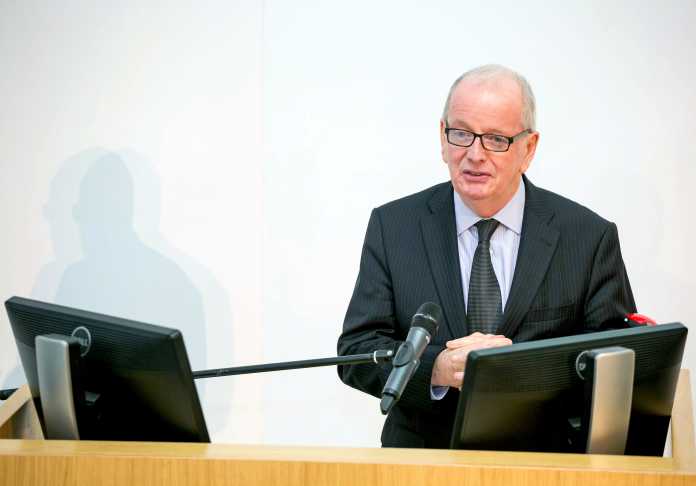 THE University of Limerick is exploring a number of sites including the 2030 Opera Centre to establish a campus in the city.
During a presentation to councillors at City Hall this week, UL President Dr Des Fitzgerald revealed that the university is working to develop education, professional training and research and development programmes in the city centre.
"Our plan is to create in Limerick a programme of postgraduate training and entrepreneurship in technology with UL science and engineering, the Kemmy Business School, the law school and our industry partners," Dr Fitzgerald told councillors at this Monday's meeting of the Metropolitan District.
"Our campus plan goes beyond Plassey. It aims to incorporate the great city of Limerick and the Mid West to develop in the next 30 years a 'university city' where the economic, social and cultural life are intimately integrated with the three third level institutions.
"We have visited several model centres, including the Bloomberg Centre and Tata Centre for Innovation in the US. We are exploring a number of sites, including the 2030 Opera development to establish UL in the city. If this works, we will look to develop other programmes, particularly in health."
UL began with an intake of just 120 students into Plassey in 1972 and today has 15,000 students. A total of 92,000 students have graduated from the university — graduates, who according to Dr Fitzgerald have the highest employability in Ireland. UL now plans to grow its student numbers by 30 per cent by 2030, bringing its students numbers to 20,000.
"UL is forging cross-industry partnerships that will harness new knowledge, that will drive innovation and discovery, that will underpin a sustainable Mid West economy.
"But we've a long way to go because our school leavers are still choosing universities outside of the region. Fifty per cent of our brightest are going to Dublin, Cork and Galway and they won't come back. There are 10,000 Irish students in UK universities. As a nation and as a region, we are bleeding talent.
"We must counter that by ensuring a place in university for all those who can go to university whatever their economic or social circumstances, by providing the best experience, by building a reputation for academic excellence, by creating highly skilled and entrepreneurial graduates, by ensuring that they have the confidence for success, and that they are seen to succeed."
Fianna Fail councillor James Collins, himself a UL graduate, welcomed Dr Fitzgerald's plans and vision for a university campus in the city centre. He praised him for his "very energetic leadership and the direction it is taking".
"It is good to hear you talk so positively and aggressively about actively seeking a campus in the city environs," Cllr Collins commented.
Fine Gael councillor Michael Hourigan urged the UL President to "drive it forward".
"We can't stand still. We want to see this happen."
Sinn Fein councillor Séighin Ó Ceallaigh said he had left his "rose-tinted glasses" at home. He took issue with Dr Fitzgerald over claims that UL students have engaged in antisocial behaviour in neighbourhoods surrounding the university.
"College Court is a no go area at night. People leave their homes in the area during Rag Week because it is such a nightmare. This is UL students, they have no respect for the local community," he claimed.
Dr Fitzgerald told the City East representative that he was "embarrassed" by such behaviour.
Read more politics news here.