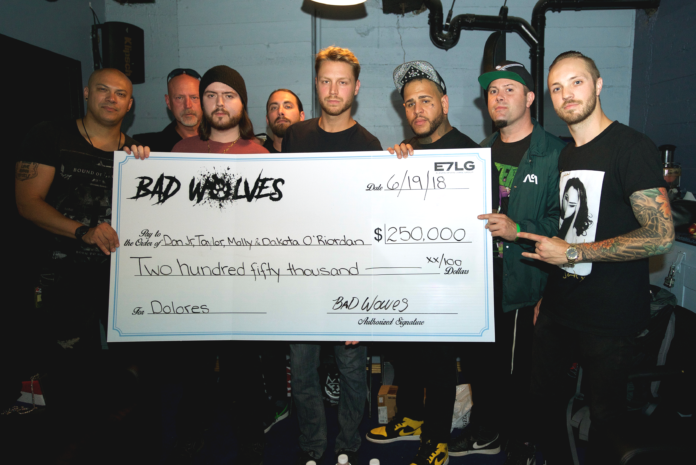 ON Tuesday June 19 at New York City's Gramercy Theatre, LA based band Bad Wolves presented a $250,000 cheque  to Dolores O'Riordan's family onstage before performing their cover of Zombie to a full house.
Watch the video here.
Sign up for the weekly Limerick Post newsletter
At the presentation was O'Riordan's two sons, Donny Jr. and Taylor Burton, alongside their father, Don Burton who accepted the cheque on behalf of their younger sisters, Molly and Dakota Burton.
Since its international release in February 2018 Bad Wolves' cover of The Cranberries' Zombie dominated the rock and metal charts internationally.
Dolores O'Riordan was scheduled to record guest vocals with Bad Wolves on the day of her tragic passing. Record label manager Dan Waite of Eleven Seven Label Group, the band's imprint, received voicemails from Delores the night before her passing reporting that she loved the cover version.
"She was telling me Bad Wolves version was awesome and she could not wait to get into the studio."
The band decided to release the track in her memory with all proceeds going to her four children. The unprecedented global success of "Zombie" has resulted in the band raising $250,000, with a promise of more.
Lead singer of Bad Wolves Tommy Vext says, "Our sadness the day Dolores passed was nothing compared to that of her children and her family. In light of the tragedy, donating our proceeds to her children was the only thing that made sense. The ultimate goal is to present them with a $1,000,000 cheque – and the fact we're a quarter of the way there is beyond incredible."
"The connection that people have to this song, the stories, the memories and the kids who are hearing this song through Bad Wolves for the first time – it's a true testament to the timelessness of their mother's songwriting that will live on forever, and we are so grateful to be able to do this for them."
The cover version has been planted atop the iTunes Metal chart in the U.K. and Germany for five straight months. The official music video, a tribute to O'Riordan and an homage to the original, has garnered over 125 million views.
Their debut album, Disobey, released in May via Eleven Seven Music, achieved the #22 spot on the Billboard Top 200. Bad Wolves will be touring extensively throughout the rest of 2018, with the "What's In Your Head" tour.