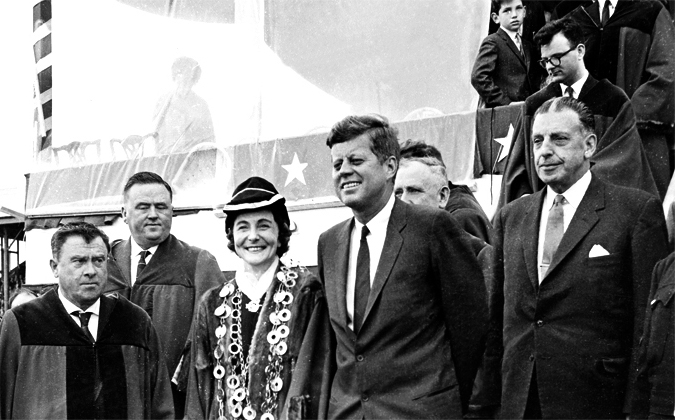 RESEARCH undertaken to mark the 55th anniversary of John F. Kennedy's visit to Ireland shows that Limerick had the strongest ancestral links to the US President with three of his eight great-grandparents natives of the county.
The research undertaken by Ancestry, the family history and home genomics experts found that three of his four great-grandparents on his mother's side, Mary Ann Fitzgerald, Michael Hannon and Thomas Fitzgerald are from the county.
Both Fitzgerald great-grandparents were from Bruff while Michael Hannon was a native of nearby Lough Gur. Only two great-grandparents hail from Wexford, Patrick Kennedy from Dunganstown and Bridget Murphy from Owenduff.
The remainder of his great-grandparents were from the counties Clare, Cork and Fermanagh – James Hickey of Newcastle-upon-Fergus in Clare, Margaret M. Field from Rosscarbery in Cork, and Rosa Anna Cox from Tomregan in Fermanagh
Kennedy chose Wexford as his ancestral home due to the family name but research shows that the Limerick links on his mother's side are stronger than his Wexford roots.
All eight of JFK's great-grandparents emigrated from Ireland at various times throughout the 1800's with each of them eventually settling in Massachusetts. This means the Kennedy family have Irish ancestry spanning the country proving him to have been a true Irishman.
Traditionally, JFK's strongest ties have been with the county of Wexford, where the Kennedy Homestead Visitor Centre was opened five years ago. This small farm was home to Patrick Kennedy, and where his JFK's great-grandfather lived.
Russell James of Ancestry.ie said that President Kennedy's Irish roots were extremely important to him.
"Traditionally JFK's heritage has been closely linked with Wexford but our records show he had strong links to other counties and Limerick in particular. These findings will hopefully allow other counties across Ireland to celebrate the life of the former American President, on the 55th anniversary of his visit to Ireland," he concluded.
Read more community news here.