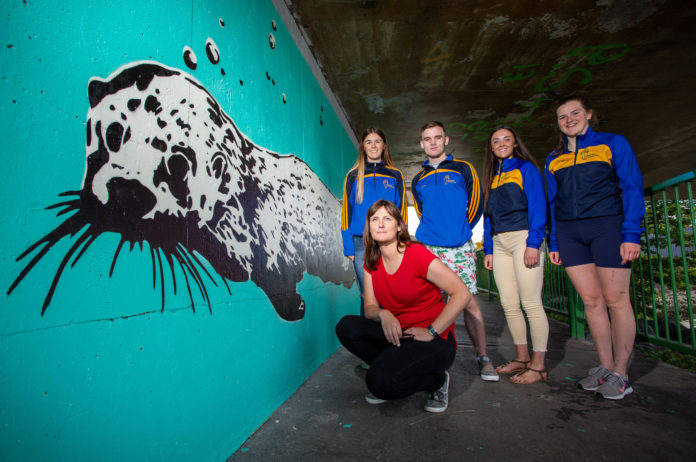 OTTO the otter has been bringing a splash of colour to a hidden part of the city centre.
Well settled in its new home under the Shannon Bridge alongside St Michael's Rowing Club at O'Callaghan Strand, it's the latest in a series of eye-catching murals that have been commissioned by Limerick City and County Council.
Painted by local artist Mary Conroy it was co-funded by the local authority and the Department of the Environment under the Local Agenda 21 Environmental Partnership Fund which funds projects that increase local awareness of environmental issues.
Otters are strictly protected by law and the destruction of their resting and breeding places is an offence. They have been known to frequent Limerick city in the river along by the Condell Road, and their presence usually indicates good water quality.
The vibrant mural was created by Ms Conroy with help from volunteers from St Michael's Rowing Club and is a wonderful art installation of public artwork celebrating local diverse wildlife.
A graduate of LIT's Limerick School of Art and Design, Mary Conroy is a cross-disciplinary artist with a strong environmental ethos. Her work explores humanity's place within the natural world through sculpture, intervention, dialogue and imagery. She is an artist-in-residence at Ormston House Cultural Resource Centre where her work incorporates ceramics, installation, social practice.
Mayor Stephen Keary described the mural as a fantastic addition to the growing urban art scene around Limerick.
"The brightly coloured mural transforms the area under the Shannon Bridge. This area is the start of a fantastic nature amenity that we have along the Condell Road and hopefully this will encourage more people to think about nature, and be on the look-out for the otter."
"The otter also reminds us of the river and the joys that the river can imbue for a person but also for the city as we continue to embrace the River Shannon."
Mary Conroy said: "In my work, I look for a connection between people and place to promote stewardship of biodiversity in local environment. This my small contribution to the battle against the loss of global biodiversity."
Council Environment Awareness Officer Sinead McDonnell said it was a wonderful collaboration between artist and St Michael's Rowing Club.
"I hope locals and visitors alike will enjoy this memorable depiction of the otter. which is regarded as one of Ireland's most charismatic native mammal species."
Read more environment news here.