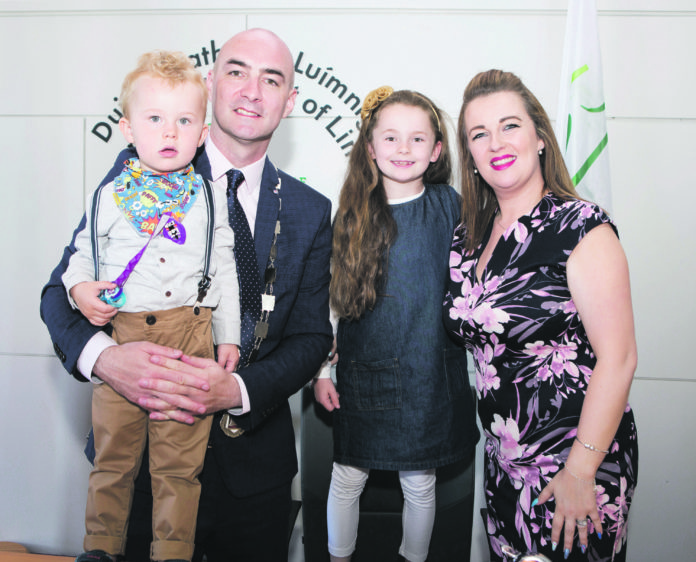 NEWLY elected Mayor of Limerick's Metropolitan District, Cllr Daniel Butler, has vowed to be a voice for all, to promote positive mental health and to honour small business owners for their contribution to the city.
A Fine Gael representative for City West, he was co-opted onto Limerick County Council in February 2014 to take the seat of his late father Cllr Richard Butler, and then elected onto the newly amalgamated local authority in June 2014.
Stepdad to Layla, father to Jacob and married to Tania, Daniel holds a business degree from the University of Limerick and works as a professional Drugs Education and Prevention worker in Limerick City.
He served as Metropolitan Deputy Mayor from 2015-2016, is a member of the Limerick LCDC, the Limerick Market Trustees, the Limerick City Community Development Project and active on a number of local community groups.
He was elected Metropolitan District Mayor at City Hall on Monday by a vote of 12 to 7. Sinn Fein councillor for City North, John Costello, was also put forward by his party as a mayoral candidate.
Following the vote, the Metropolitan District's new first citizen was clearly relieved.
"Thank God that's over. I was nervous in the lead up to this because of the huge honour this is and for someone who has been involved in politics in a very practical way since I was a young boy I understand this to be a privilege few experience," he explained.
"My ambition and desire for this city know no bounds. This place has been my family's home for many generations and like the Shannon runs through the city, Limerick flows through my veins.
"I have watched it struggle through many challenges and often hang its head in shame at some of the happenings in our city. I have been angered by how it has been portrayed by national media often to deflect from the more alarming challenges the capital faced.
"I have been part of the highs and lows in sport, and like sport, we as a city have had our triumphs and our losses but never do we take a step back from any challenge. That bare souled strength and honesty of who we are is one we have begun to embrace and must continue to."
He said he would work with the council executive to develop a clear strategy to support the city centre to be a place to do business and socialise and shop in. He also talked about focusing on connecting young people to the idea of politics and active citizenship. This he plans to achieve by introducing a competition called 'Mayor for a Day'.
"My focus has always been to support positive mental health. I hope to continue to challenge the stigma of mental ill health and to move this conversation in a meaningful way.
"Finally, I want to honour small business owners who often may only employ three or four staff but in that make huge contribution to Limerick's economy. I want to offer them the chance to be recognised, to help them access supports for growth through the council."
Fine Gael councillor Michael Hourigan, who proposed Cllr Butler, predicted he would make "a great mayor".
His election was sealed after the proposal was seconded by Fianna Fail councillor James Collins who spoke fondly of Daniel's late father Richard.
Independent councillor John Gilligan commended the newly elected mayor's "hard work ethic".
"But before our little love-in is finished, I would like to say that I think the mayoralty should not be decided by party politics. It is bad for democracy. It should be more inclusive," he said.
Meanwhile, Sinn Fein councillor Séighin Ó Ceallaigh asked the executive to take a serious look at the two-mayor system at the end of this council's current term next May.
"Having two mayors doesn't do the position of mayor justice. It needs to be looked at."
Fine Gael councillor Elenora Hogan was elected Deputy Mayor of the Metropolitan District.
Read more politics news here.