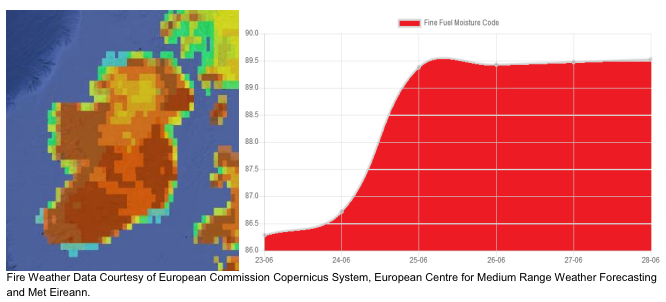 THE Department of Agriculture, Food and Marine (DAFM) have issued a 'condition red' extreme fire risk "arising from current prolonged high-pressure weather patterns, high temperatures and effective drought conditions".
In a notice issued earlier today, the DAFM advised people to avoid all outdoor use of "fires, barbeques, and other open ignition sources" in forest lands and other high-risk areas until further notice.
Sign up for the weekly Limerick Post newsletter
Limerick City and County Council issued the following statement:
"Due to the ongoing Hot and Dry weather there is an extreme risk of fire. Limerick City and County Council are not permitting any burning of Agricultural Vegetation and that the General Public should be particularly vigilant with Cigarette butts and Barbecues or any other potential fire source during these exceptional weather conditions.
The Fire Service has already been called out on a number of Occasions over the last few days and your cooperation would be appreciated to protect the Environment and Public Health."
Read the full notice here.