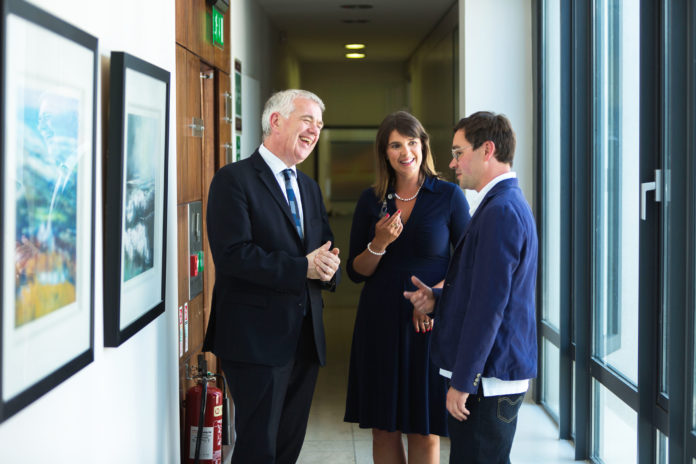 LIMERICK-based solicitors Holmes O'Malley Sexton (HOMS) have acknowledged the contribution of the local business community to the continued growth and success of EVA International.
The 38th edition of EVA International, which is Ireland's Biennial exhibition of contemporary art, will draw to a close on this Sunday, July 8.
EVA Director Matt Packer, who took guests on a virtual tour of the exhibition said its success was made possible through a variety of supporters.
"It's crucial that we have Limerick's business community in the mix. In endorsing EVA's values of connecting locally, nationally, and internationally, we can work together with the business community to significantly increase the cultural profile of the city in a way that benefits us all," he said.
Director of EVA International and Partner in BDO Ireland Con Quigley said the exhibition was a uniquely Limerick event, that had grown from humble beginnings to being able to draw from a pool of the best contemporary artists in the world who were paid for their work.
Director of EVA and Senior Associate of Banking and Finance at HOMS Lisa Killeen said, "I was delighted to host a lunch at HOMS Solicitors for friends and sponsors of EVA who took time away from busy desks and warm weather to join us for the occasion."
This year's exhibition which was curated by Inti Guerrero, connects the national imagination of early twentieth century Ireland with the current political landscape.
The exhibitions starting point came from the painting 'Night Candles are Burnt Out' painted in 1927 by Irish artist Sean Keating.
The painting depicts a host of characters set against the backdrop of the construction site of the dam at Ardnacrusha, which accelerated the national economy and radically shifted the society of the new Irish state.
Read more arts news in the Limerick Post Lifestyle section.
by Louise Harrison
[email protected]