STUDENTS from Glenstal Abbey went to great heights to provide computer equipment for their partner school in Tanzania.
For not only did they climb to the top of the highest free-standing mountain in the world but they also found time to help their African counterparts come to grips with online technology.
A group of 27 people comprising of guides, a doctor, parents and students ranging in age from 14 to 17, scaled Mount Kilimanjaro during their seven-day odyssey.
And, after reaching the summit, they went to work with local school children, teaching them the intricacies of computers and technology. Through their fundraising activities, the County Limerick school provided 15 computers for their counterparts in Arusha, Tanzania.
16-year-old Peter Fahy from Mungret was one of the Glenstal students who travelled to Tanzania and he spoke to the Limerick Post about his experience on Kilimanjaro.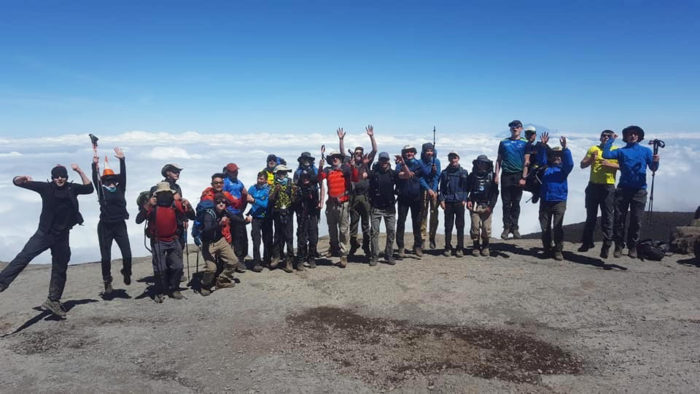 "It was good, definitely, but very challenging. I wasn't physically prepared for it, but mentally I was. Mind over matter is very important on that mountain.
"It took us six days to get up, and a day and half to get down. I'm definitely glad I did it, but it was very tough. I won't be forgetting it any time soon," he said.
Glenstal teacher Noelle O'Brien explained how the students benefited from the experience:
"The benefits for the students were immense. They pushed themselves mentally and physically to climb to the top of the mountain and after an arduous seven-day expedition they finally reached the summit on the morning of June 16.
"This expedition has no doubt built on the student's leadership and resilience skills, each of them having held many leadership roles during the expedition, for example, setting and maintaining the pace each day with the local guide and ensuring all participants reached their checkpoints each day.  In addition, they also got to appreciate the lives they have in Ireland after their cultural interaction with the students and locals in Arusha."
"The students interacted really well together and the bonds of friendship camaraderie derived from this shared adventure were definitely deepened.  The opportunity for fathers to participate with sons was also special and will provide great memories in future years of a fantastic shared experience," she added
More photos of the trip can be seen on the Glenstal Abbey website, www.glenstal.com