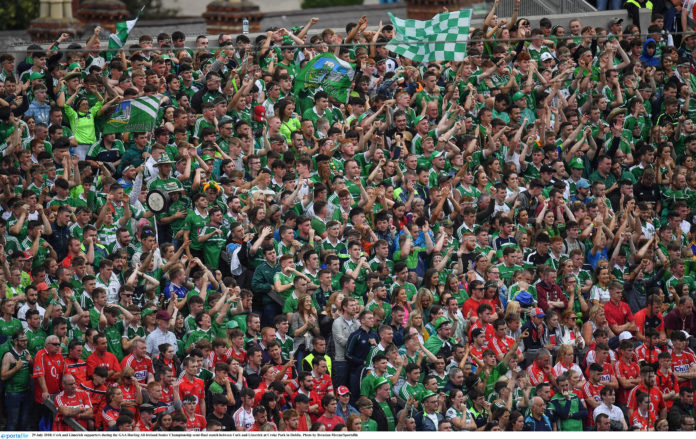 A MASSIVE trawl is well underway by Limerick hurling supporters in search of precious tickets for Sunday fortnight's All-Ireland final.
John Kiely's heroes secured a final place courtesy of a memorable comeback extra-time victory over Cork in Croke Park on Sunday, to set-up a first appearance at this stage since 2011.
Sign up for the weekly Limerick Post newsletter
All of 45 years have passed since Limerick last won an All-Ireland title (1973), and there is a growing confidence that the yawning gap will be closed on August 19.
Limerick's opponents remain unknown after holders Galway and Clare played out a draw in the other semi-final, with that replay now scheduled for Thurles on Sunday.
Such is the long-standing ticket distribution for finals, Limerick can expect only an official allocation of 16,500. Such a low figure is unlikely to come remotely near satisfying the demand of the green and white supporters.
A realistic estimate of the Limerick support in Croke Park last Sunday was in the region of 35,000, representing around half of the attendance.
Unlike all championships to date involving Limerick, there will be no general sale of tickets through channels such as SuperValu.
All tickets at this point will only be available for purchase through local clubs, of which there are around 70 in Limerick.
Stand tickets for the final will be priced at €80, with terrace (Hill 16) pitched at €40.
The approximate breakdown of tickets for the 82,000 sell-out All-Ireland Final is: county allocations (60,000); premium/corporate (10,000); provinces (355); overseas (470); former GAA Presidents (800); camogie (140); ladies football (100); rounders/handball (200); sponsors (1,000);  media (325); schools (2,250); third-level (240); local residents (200); national referee panel (130); jubilee teams (70) and others.
In an effort to boost their ticket allocation, Limerick GAA chairman John Cregan and secretary Mike O'Riordan will be working behind the scenes to negotiate with neighbouring counties such as Kerry and Tipperary.
It's illegal to sell tickets above face value and GAA authorities have taken a strong stance on this front in recent years, often cancelling them in advance of match day if such a practice is detected.
by Mal Keaveney
[email protected]