THE history of Limerick families who fished the River Shannon goes back hundreds of years and has been celebrated in many publications, productions and in the annals of local history.
But that tradition is under threat according to a 72-year-old Limerick fisherman who says that simply accessing the river banks is now a major test of endurance.
Sign up for the weekly Limerick Post newsletter
Sean Quinlivan, who has fished the river since he was a small boy, told the Limerick Post that he now has to climb railings, walls and fences if he wants to access the traditional fishing spots of the Shannon above Thomond Bridge.
"Of late, access has been blocked at all the spots we once went in. Brown's Quay is blocked, the Treaty Stone, the falls on the Castle side and next to Thomond Bridge, these were all the traditional ways to the river for the fisherman.
"Now, I have to climb railings and fences and it is quite dangerous.
"If I go into the Shannon at the baths in St Mary's Park and go down river towards the castle and under the bridge to fish, I have to wade back up under the bridge to get out again. If they leave out a flood of water from Ardnacrusha Power Station I am goosed because there will be a flow of water that could take me away. There is no access or exit point near me."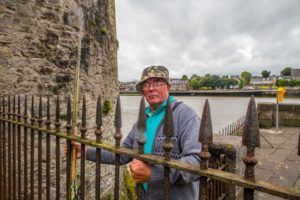 When the new flood defences were built on Kings Island and near Verdant Place, Mr Quinlivan said that he spoke with Limerick City and County Council engineers and highlighted the issue.
"They told me that they would look into this and that was to years ago. It's still the same.
"There is a health and safety issue for everyone that has been missed here and someone needs to address it.
"Then, there is the heritage associated with fishing on the Shannon and if this continues, the fishing in Limerick will become a thing of the past.
A spokesman for Limerick City and County Council said that access at Verdant Place to the river, in light of the new build, would not be possible.
"Openings in the flood defence wall cannot be provided as this would breach the flood protection offered by the wall.
"Suitable and safe replacement access is currently being considered for river fishing around the Verdant Place area," he said.