Electric Picnic had announced the final additions to the line up for this September's festival.
There is a strong Irish flavour to the newly announced acts. Picture This, Walking on Cars, The Coronas, Gavin James, Ash, Hermitage Green, Versatile, Hudson Taylor, Wyvern Lingo, Delorentos and King Kong Company will keep revellers entertained.
The biggest selling act to be added is The Prodigy who are returning to live action with a new album called 'No Tourists' to be released November 2. Sleaford Mods and Gomez are welcome additions for the indie fans.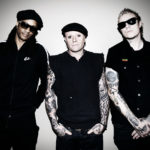 Over in the Body and Soul area there are some exciting prospects just revealed. DJ and composer Kormac with the Irish Chamber Orchestra and an array of special guests will perform his KORMAC: EQUIVALENT EXCHANGE. A brand new show which debuted in March 2018 to a sold out Vicar Street had visuals designed by Irish artist Maser. It closes the Body & Soul Main Stage on Sunday September 2.
Also appearing at Body & Soul are David Keenan, Inhaler, Halo Maud, The Lost Brothers and Colombia Mills.
Colombia Mills describe themselves as "Joy Division playing the Grand Ole Opry." Expect live performances that are emotionally charged with a combination of live instruments and electronic elements to make for an all-encompassing show.
Electric Picnic happens in Stradbally, Laois on August 31 – September 2.