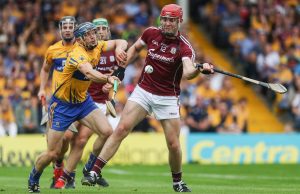 John Mullane says stopping Johnny Glynn crucial to Limerick's chances.
Waterford legend John Mullane is expecting a epic battle between Limerick and Galway when the sides face off in the All Ireland final in Croke Park. Both sides employ a similar style of play with strong physical half forward lines who drop deep to help their defence.
The midield battle between will most likely see Limerick's Cian Lynch and Darragh O'Donovan up against Galway's All Ireland winning axis of David Burke and Johnny Coen. Speaking at a recent Limerick GAA panel event, Mullane reckons the midfield will be a key battleground in to battle for Liam McCarthy.
"Both teams are going to mirror each other next week because they both play a similar style, they both drop the half forwards out so I think the middle third is where the game is going to be won or lost."
Kyle Hayes and Joe Canning will both likely be named as centre forwards on Sunday but will have very different roles for their respective teams. Canning will drop deep as an auxiliary midfielder and look to supply the Galway forwards with quick ball. Hayes will do likewise but often drops deeper as an extra defender which will allow Declan Hannon to anchor the defence.
The individual battles will also will be intruiging as Limerick will be looking to test Daithi Burke at full back. The Turloughmore man has been imperious all year, dominating John Conlon in the semi final clashes. Seamus Flanagan will provide him with a different test and may look to take him away from his position. Flanagan has tended to drift out the field this year and pick up loose ball.
However, Mullane feels that there is one man on the Galway team that could well prove to be the difference and that is Jonathan Glynn. The powerhouse full-forward has tormented defences all season including Padraig Walsh and David McInerny, two players renowned for their aerial ability. Unlike Flanagan, Glynn will place himself at the edge of the square and will stay there for the reaminder of the game.
"The one man I'm worried about next weekend from a Limerick point of view is big Johnny Glynn. Mike Casey is a good full back but he's giving up five or six inches on Johnny Glynn. Mike Casey struggled in Ennis with John Conlon and I'm just wondering do Limerick have a plan B because I think Johnny Glynn could be key for Galway."
Mike Casey has proved his worth at full back all year for Limerick and will be expected to line up against Glynn on Sunday. The Na Piarsaigh man nullified the threat of Con O'Callaghan well in the club championship and will be relishing the chance to do the same to Glynn.
If Glynn makes inroads against Casey, Mullane says Limerick have a number of options to move to the full back position.
"It might be a game where you have to move Richie English into full back… You don't want to be taking Dan Morrissey out of wing back but its six or seven inches. You've seen him, he's a man mountain… He's a big asset for Galway in the full forward line."
The post John Mullane says stopping Johnny Glynn crucial to Limerick's chances appeared first on Sporting Limerick.